Collegium #2 Bathroom Project – Ukraine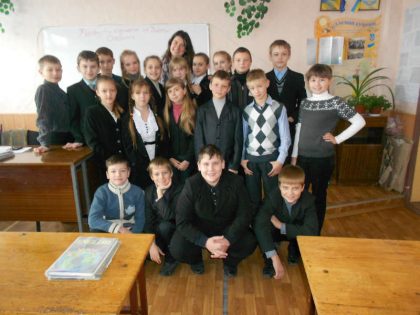 Location
Lozova, Kharkivs'ka Oblast, Ukraine.
Community Description
Lozova is located 90 miles from Kharkov, the region capital. Lozova is a community of 60,000, and home to many farmers and some textile laborers. Many factory jobs were lost when the Soviet Union collapsed and have yet to return to the area.
Collegium #2 serves the first to the eleventh grade. Approximately 400 children attend the school, and there are 35 staff members.
Collegium #2 was built 30 years ago and no repairs or updates have been made to the school's plumbing.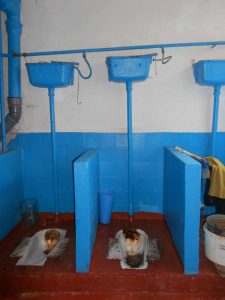 Problem Addressed
The school has two working toilets for 200 girls and 1 working toilet to serve 200 boys. The toilets are squat toilets, and more often than not, they do not flush.
The toilets are rusting, cracked and falling apart. Since the toilets do not usually flush properly, the areas near the bathrooms often smell of human waste.
Project Description
This project is to renovate the boys' and girls' bathrooms in Collegium #2.
The boy's bathroom is located on the first floor near the 1st-grade classroom and the girl's bathroom is located on the second floor near the math classrooms.
Two new modern toilets will be installed in each bathroom. Both waste lines will be replaced, and the supply lines repaired as needed.
The walls will be whitewashed, and the tiles around the base of the toilets and sinks will be replaced.
The school director will oversee the repairs. The school handyman will lead the repairs, and students, staff, and community members will assist as needed.
Water Charity funds will be used to purchase the fixtures, piping, fittings, and other materials.
Students and staff will raise $76 need to complete the project.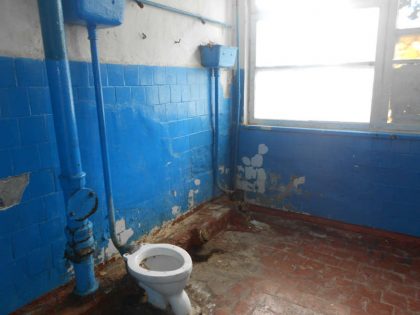 The school will maintain the bathrooms, and funds needed for future or further repairs will be raised by the community.
Project Impact
This project will directly benefit 400 students and 35 staff members.
Peace Corps Volunteer Directing Project
McLain McGrath
Comments
This is an important infrastructure project for the school. It will improve the health and well-being of students and staff.
Dollar Amount of Project
$555.00
Donations Collected to Date
$555.00
Dollar Amount Needed
$0.00 – This project has been fully funded through the generosity of Wilco Krul, of Einhoven, Netherlands, with the help of friends and family of Peace Corps Volunteer McLain McGrath.
We encourage others to continue to donate using the Donate button below, and we will notify McLain of your donation. Additional funds will be used to fund the next project by McLain and/or those of other PCVs in the country of service.