Conclusion of Chuitacabaj School Water Storage and Handwashing Station Project – Guatemala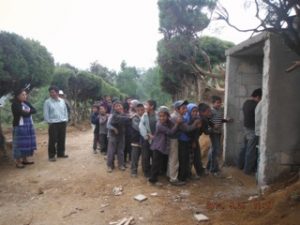 This project has been completed under the direction of Peace Corps Volunteer Casey Velasquez.
To read about the beginning of the project, CLICK HERE.
The project was to construct a concrete reservoir tank and handwashing station at the school.
Casey reports:
Thanks to the people who funded the school of Chuitacabaj, Xesana's water tank project, the community members, and teachers were able to construct a water tank and handwashing station. More than three hundred Guatemalan elementary school students, now have daily access to water. Personal hygiene habits will be practiced regularly in the school and daily snack preparation will no longer be a problem.

Initially, the work progressed slowly, but the completed project exceeded everyone's expectations. In the first couple of weeks, there was disagreement on who should lead the project. The parents committee and the teachers drew a design for the water tank. However, a local community development group presented an alternative design, they felt worked better. Everyone finally agreed to use the development group's design.

The completed project was worth the long development period. The structure was built on a hill adjacent to the school. This elevation allowed the faucets to be placed at the bottom of the tank (giving access to all the water) and still be accessible to taller students. An enclosure was built around the faucets, securing them against vandalism and robbery, which are huge problems in the Sta. Maria Chiquimula communities.

All parties signed a contract promising to maintain and use the new water system to improve the hygiene of the school and its students.

The teachers and community members were pleased with the project. They felt it was practical and secure. The community was grateful for the work of the Peace Corps volunteer and the support of donors and Water Charity.
We are grateful to Casey for completing the project, and again wish to thank Michael and Carla Boyle, Marcia Camden, and Casey's other family and friends for providing the funds for this project as well as additional work in Guatemala.