Chimdomba Borehole Project – Zambia
This project is made possible through the partnership of WATER CHARITY and the NATIONAL PEACE CORPS ASSOCIATION.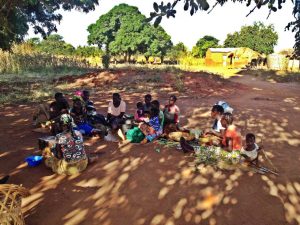 Location
Chimdomba Village, Lundazi, Eastern Province, Zambia
Community Description
Chimdomba is a village located under Magodi Chiefdom in Lundazi district. It is an extremely rural village, located about 60 kilometers in the bush from the town of Lundazi. The people in the community speak Chitumbuka. The Tumbuka people are a small tribe located in North-Eastern Zambia and Northern Malawi with a population of about 1 million.
Chimdomba Village contains 27 families with a total of 176 people. This village is mainly of farmers who seasonally depend on harvests of maize, soybeans, cotton, and sunflowers. It is one of the largest villages in the catchment area. This village is only growing and the demand for water is only rising.
Problem Addressed
Being one of the largest communities, Chimdomba lacks any viable water source. Eastern Province is one of the driest in the country so there are no nearby lakes, streams, or rivers around the area. Water is mainly gathered from open wells, and boreholes.
The nearest borehole, located 3.5 kilometers away, is located in Chazovu Primary School. Women and children daily carry 20-liter jerry cans every day just to complete daily chores.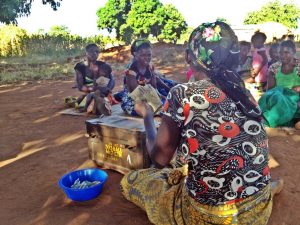 The borehole at Chazovu is being highly used, so breakdowns are common and the risk of water drying out is a huge possibility for the school.
Many families in Chimdomba store water in open containers and this creates a place for mosquitos to breed. Malaria is rampant in the region, and many families are affected by it. Children in Chimdomba village tend not to practice good hygiene, so head sores are very common.
Project Description
This project is to build a borehole in the community. Community and PTA meetings were conducted, and Chimdomba decided on a central location for the borehole and elected a committee that will maintain it.
STE Drilling will drill the borehole to a depth of 50 meters. An India Mark-II handpump will be installed. Full installation and training will be completed within a week. They will also teach the village about maintenance, and contribute a 10,000 Kwacha discount.
The community will then build a surrounding wall and drainage to help with cleanliness. This will be made with sand, stone, and bricks. The work will be done by contributions and labor provided by community members.
After the construction of the borehole, the PCV will hold community meetings to speak about proper hygiene and the importance of not storing large amounts of stagnant water in open containers.
Project Impact
27 families, comprised of 176 people, as well as others from nearby villages will benefit from the project.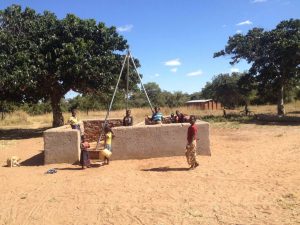 Peace Corps Volunteer Directing Project
Adrian Valenzuela
Monitoring and Maintenance
The community will collect a small amount from those using the borehole, to be used for maintenance. Community members will have been trained in proper monitoring and maintenance.
Comments
The borehole will provide water for a growing village. Women and girls will be relieved from having to walk a 7 km round trip to retrieve water, allowing them to focus on helping with care for their homes and families. Children will also be able to bathe every day, and better hygiene will lead to a reduction in illness in the community.
While this project is not a part of the Peace Corps Let Girls Learn program, it embraces the same values. Hence, it is included under our Let Girls Learn Plus program.
Women and children, mostly girls of school age, are largely responsible for collecting water for their families. Multiple trips daily to collect water affect girls' education. It is a draining task, taking a great amount of time, and leading to less energy and focus on school activities. When the borehole is built, girls will be largely relieved of that responsibility, allowing them to attend school.
The school offers a GLOW (Girls Leading Our World) club, which promotes girls' empowerment, gender equality, and further education. The borehole will result in all an increase in attendance.
Fundraising Target
$2,700
Funds raised in excess of the project amount will be allocated to other projects in the country.
Donations Collected to Date
$0
ADOPT THIS PROJECT BY CONTRIBUTING THE DOLLAR AMOUNT OF THE PROJECT
Donations of any amount will be appreciated. The full amount will give you "naming rights" if that is something you would like.
Dollar Amount Needed
$2,700
This project has been completed. However, we are still accepting donations to cover the funds we have advanced so that we have money on hand to continue to work with PCVs in Zambia on projects such as this one.
To read about the conclusion of this project, CLICK HERE.