Conclusion of Chakuli Borehole Repair Project – Malawi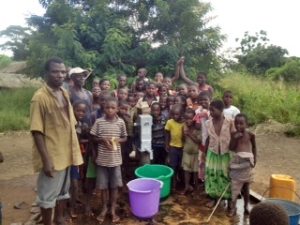 This project has been completed under the direction of Peace Corps Volunteer Kristi Mathis.
To read about the beginning of the project, CLICK HERE.
The project was to repair the borehole in Chakuli.
Kristi reports:
This borehole project came with some difficult problems, and some very hard lessons were learned along the way. I originally visited this borehole in October of 2012, where the community told me that frequently the borehole stops working. Being dry season, they assumed that the water table was drying and that was the cause of the troubles.

The borehole completely stopped working in February of 2013, in the middle of rainy season, and I knew this was no longer a water level problem. The village then disassembled the borehole finding that the hanger pin was completely demolished, making the handle of the borehole pump unevenly. This eventually cracked the pump cover, previously thought to be damage done by livestock. Because one small piece was broken, it seemed to start a domino effect that eventually caused unnecessary wear on other supporting parts.

After discussing with the community the importance of maintenance and care, we constructed a new budget, where we hit even more roadblocks. The pump head cover is unfortunately not sold separately, and is only available as part of a kit. Eventually, we convinced a local businessman to sell us the part.

The community supplied the labor and transport costs. They also contributed additional funds to start a borehole fund for future maintenance repairs.

The community also worked to fix the soak pit and clean up the borehole area by reducing the grasses surrounding the borehole.

The community also helped reconstruct the borehole, as putting the pipes back in takes many people. Also, much manpower was also needed to remove the old bolts, ultimately by cutting them off.

A new borehole committee was constituted with members chosen by the village Chief, who assures that this new committee will do a better job overseeing maintenance issues. The new committee consists of 9 women and 1 man who helped raised additional money by performing skits and dramas on Sunday after church.

This borehole is 18 years old, and hopefully will continue to last another 18 years as the main source of water for such a large community. Again, this community could not have done this project without funding, and are extremely grateful for the parts bought with the funding.

The village women ended the project by singing a song of appreciation and cooking nsima (Malawian staple food) for everyone who participated.

Thank you from Chakuli village.
We are grateful to Kristi to pursuing this project in the face of difficulty and seeing it through to completion. We again wish to thank Bryan Mathis for providing the funding.