Conclusion of Ccotos Latrine Project – Peru
Final Report Menor de Ccotos Bathroom Project
This project has been completed under the direction of Ralph Bolton and Kimmy Mazza, working with the Association Pro-DIA,​. To read about the start of the project, CLICK HERE.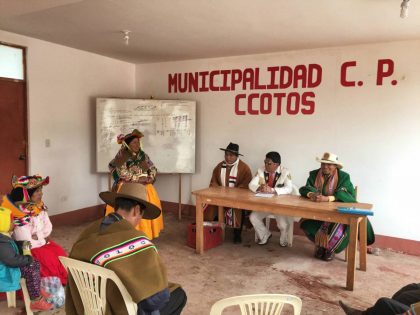 This project in Menor de Ccotos village was designed to add a second restroom with additional piping, an elevated water tank and a second set of fixtures – sink, toilet, and urinal. The additional facility was designed to incorporate the village's existing pump, reservoir, and network.
Ralph reports:
The bathroom project in Menor de Ccotos was finished with great success and the community now has two public bathrooms with a secure supply of water 24 hours a day in their municipality building.

The community played a major part in the construction of the bathroom, helping with many labor-intensive activities such as the excavation required to install the sewage piping and breaking through the cement walls to check and fix existing water piping connections.

The first step of construction was the installation of an elevated plastic water storage tank. Once installed and connected to the existing water piping system, water was running through the pipes to ensure there were no leaks in the current piping system. After that, the community members excavated the areas necessary for the sewage piping system and the head contractor installed the new bathroom accessories and ceramic tiles on the floor and on the walls. The first bathroom was equipped with a new toilet and sink, and the second bathroom was equipped with two urinals, two sinks, and a toilet.

The bathrooms were officially inaugurated during the town's annual anniversary celebration. During the inauguration, the local authorities expressed their gratitude for the project. They are the only community in the district that has an elevated water tank providing water to the municipality building. Many communities on the Alitplano only have water for a few hours a day, so having a water tank they can fill during this limited time is essential in order to have a secure supply of water all day.

The mayor of the community also said that these are the nicest public bathrooms in the entire district. During the town anniversary celebration, many visitors come to town and the bathrooms were being put to good use. The public bathrooms will definitely be helpful for the growing tourist industry present in Menor de Ccotos. The community is very happy with how the project turned out and very proud of its new public bathrooms.
We extend our thanks to Ralph for completing this important project.