Conclusion of Ccotos Bathroom Project – Peru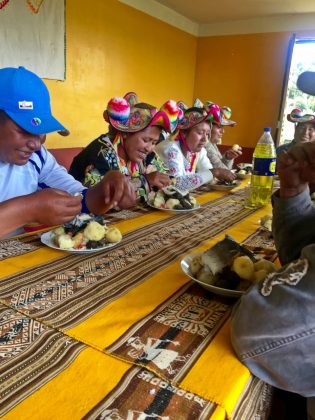 This project has been completed under the administration of Ralph Bolton, Ph.D., Returned Peace Corps Volunteer (Peru,'62-'65), and founder and director of The Chijnaya Foundation. Work was done under the direction of Chijnaya's operational arm, Asociación Pro-DIA, a legally-constituted Peruvian counterpart. On-the-ground work was managed by Kimmy Mazza, Returned Peace Corps Volunteer (Peru,'16-'18).
To read about the start of the project, CLICK HERE.
The project was designed to improve the bathroom facilities of the members of the tourism association in Ccotos.
Kimmy reports:
It was such a pleasure working with the tourism association Incasamana in Ccotos. Ccotos really is a breathtaking place and the community is so incredibly friendly and hospitable. Developing tourism is a large investment, and this project from Water Charity was the first step for many of the members of the tourist association in creating home-stays for visitors.

Water Charity funds were used to buy materials, so the benefiting members were responsible for providing the extensive labor required either to construct or remodel their bathrooms. All 10 members now have a secure supply of water 24 hours a day and a solar thermal water heater to guarantee hot water for their families and visitors. 4 out of the 10 members already had these amenities in their houses and chose to construct or remodel new bathrooms. The new bathrooms are beautiful and will provide a more comfortable and elegant stay for tourists.

The tourist association is very happy with this project and so grateful for the support from Water Charity and its donors. Tourism in Ccotos is growing more and more each year and it is important that the tourist association has sufficient infrastructure to keep up with the growth. This project was a major step in expanding and improving the tourism industry, and in turn, the economy of Ccotos.

Once construction was finished the new bathrooms were inaugurated in typical Peruvian fashion by breaking champagne over the new infrastructure and enjoying a delicious lunch together. The tourism association expressed their immense gratitude for the project and is motivated to continue working to improve and expand tourism in Ccotos.
We extend our thanks to the team for completing this important project.