Conclusion of CBSM Education Centre Rainwater Harvesting Project – Kenya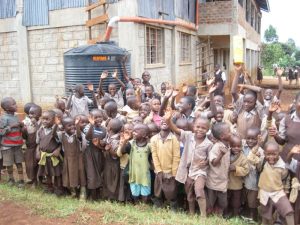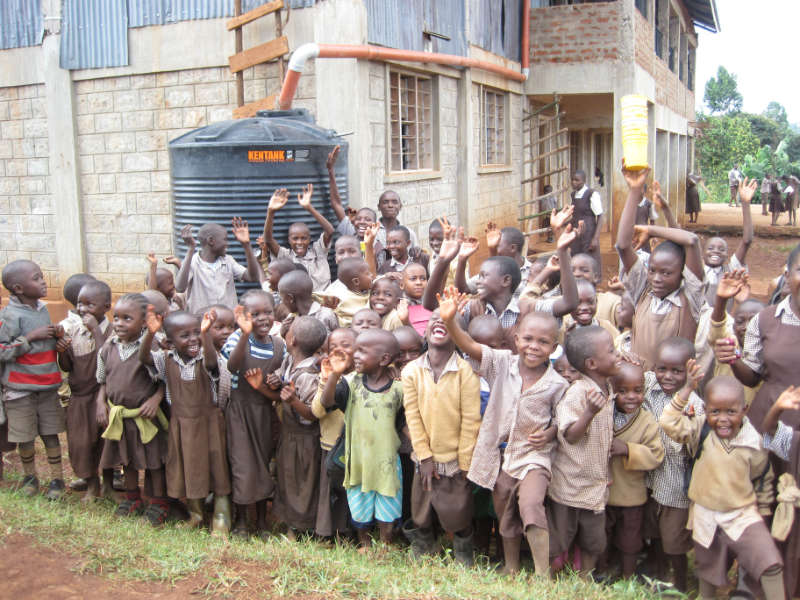 This project has been completed under the direction of Peace Corps Volunteer Breezie Mitchell.
To read about the beginning of the project, CLICK HERE.
The project was to build a rainwater harvesting system to provide water for the needs of the school.
Breezie reports:
The rainwater harvesting system for Community Breakthrough Support Mission Education Centre is now installed and operating successfully!

The students and staff at the primary school are extremely grateful to have a reliable and clean source of water every day. A teacher recently said, "thank you so much for this tank, now if the tapped water gets shut off we will not have to suffer."

Once the funds were received from Water Charity, materials were purchased to start construction. Due to an increase in transport costs for materials and labor costs for a plumber, the 3,000 liter water tank planned for in the initial budget was not purchased. Instead a 2,000 liter tank was bought and transported from Bungoma to the school, which worked out perfectly with the budget.

After all of the materials were delivered to the school, the mason and two unskilled laborers started constructing the platform for the tank with bricks, concrete, water, ballast and sand. Once this was finished they coated the platform with waterproof cement to decrease the frequency of cracks in the future.

A local plumber constructed a tin funnel to catch all of the rain water from the corrugated roof. This was attached to the roof and then two pipes connected by four elbows were installed to transport the rain water from the funnel to the tank.

The water tank was placed on the side of the school so that it would not block the windows. A removable screen was installed at the end of the piping to keep rocks and other debris out of the water.

An overflow pipe and a tap were inserted into the water tank once the plumbing was complete. With the excess materials the mason was able to make a small drainage path for the water after usage to decrease the accumulation of mud.

Students and staff will receive a lesson on the importance of water sanitation, personal hygiene and hand washing. Staff will also receive a lesson on how to properly clean the tank periodically.

Thanks to Water Charity the students and staff at Community Breakthrough Support Mission Education Centre now have an ample supply of clean water for drinking, washing their hands, and cooking school lunches.
We are grateful to Breezie for completing this project, and again wish to thank her friends and family who have donated.