Caribbean Clean Water Hurricane Relief Program
Caribbean Clean Water Hurricane Relief Program
Puerto Rico, St. Maarten, Dominica, Antigua & Barbuda
This project was made possible through the partnership of WATER CHARITY and the NATIONAL PEACE CORPS ASSOCIATION, working with SAMARITAN'S PURSE

This Hurricane Relief Program on all 4 islands has been completed.
We are hoping to expand the program and do more to help the people rebuilding with their water & sanitation issues, so please continue to donate using the button below. New pictures and info will be appended to the bottom of the original program report, so check back.


---
As most of you know, a series of destructive storms hit the Caribbean this year with a ferocity and intensity that was truly catastrophic. The 2017 Atlantic hurricane season was a hyperactive, deadly, and extremely destructive season, featuring 17 named storms! Hurricanes Harvey, Irma, Jose and Maria did the majority of the damage, though, setting records and leaving a wake of devastation in their wakes.

Hurricane Maria was regarded as the worst natural disaster on record in Dominica and Puerto Rico, and caused catastrophic damage and triggered a major humanitarian crisis in Puerto Rico. In Maria's wake, Dominica's population suffered from an island-wide water shortage due to uprooted pipes, nearly every roof on the island was damaged, and 100% of the banana and tuber plantations were lost. In Puerto Rico, the hurricane completely destroyed the island's power grid, leaving all 3.4 million residents without electricity, and an outbreak of leptospirosis materialized in the weeks following the hurricane, as standing water remained and became contaminated with animal urine and feces.
In the aftermath of Hurricane Irma, which was also a Category 5, development on the islands of Barbuda and Sint Maarten (also St. Martin) was described as being "95% destroyed" by respective political leaders, with 1,400 people feared homeless in Barbuda. In many areas, every building was damaged or destroyed, including the shelters! The winds at Irma's peak were in excess of 185 mph, the strongest to hit the area on record.
Water Charity has done a lot of disaster responses over the years, and we believe very strongly that water filters save lives. In the wake of a natural or man-made disaster, people are displaced and in the shelters and camps that spring up, waterborne illnesses can spread very quickly. In many cases, deaths from cholera, typhoid, dysentery and the like can surpass that of the disaster itself by orders of magnitude. Water Charity was helping in Haiti after their 2010 earthquake when a cholera outbreak took hold that went on to affect nearly 700,000 people (more than 6% of the population)! It is only recently coming out that the number of deaths from that event is probably at least 3x as great as what was reported at the time.

The Solution
In order to help as quickly and efficiently as possible, Water Charity teamed up with our friends at Samaritan's Purse to deal with the water issues from the outset, and get filters where they were needed. We are happy to say that these filters were among the first to be distributed and placed in the afflicted areas.
There are 3 types of filters, 4 Islands covered, and 5 projects in our relief program, so far. We are proud to say that more than 100,000 people are drinking clean water due to this program now, and we would like to expand it if we can raise more money.
Here, we will give an overview of all the various projects in the program. Each of them will also have their own dedicated page on this site where you can go to see more detailed information, pictures and video from the work and so on.
SAWYER FILTER DISTRIBUTION (Puerto Rico, Dominica, St. Maarten)
​Those of you who know Water Charity will know about our longstanding and frequent use of the Sawyer "hollow

membrane" water filter technology. See our Filters For Life Program for some examples. Many of our distributions fall into other programs, but you will see that we were one of the earliest adopters of this method and product, and have helped Sawyer build out an entire international relief effort to match their commercial efforts. This has caused an explosion of use around the world, a huge drop in price, and a lot of people having access to safe water who wouldn't otherwise.
Fast forward to 2017, prices for filters are now less than 1/4th of what they were when we started using them, and they were a deal back then. They have many advantages over the ceramic and carbon filters we used to use. They are light, small, last forever (guaranteed for a million gallons, and they go way beyond that), require almost no maintenance and are engineered so the carbon nanotubes do not let anything larger than .1 micron (or .02 for the extreme model) through. No living pathogen is smaller than .1 micron, so it is a brilliant solution. See a testimonial from Kenya here.
Now, in many homes across Dominica, Puerto Rico, and St. Maarten, Sawyer filters are providing hurricane-affected families with clean water. These personal filtration systems filter more than 150 gallons of water per day. In certain remote areas of Puerto Rico—where residents were trapped by blocked roads and had neither running water nor power—some people resorted to drinking from local streams. Using a helicopter, our disaster response staff airlifted thousands of Sawyer water filters and buckets to these remote communities. Once residents received the filters, they had ongoing access to clean water.
​5,500 Sawyer Filters installed in Puerto Rico (also see Community Filter Installation below)
1,000 Sawyer Filters installed in Dominica
88 Sawyer Filters installed in St. Maarten (also see Community Filter Installation below)
BARBUDA COMMUNITY FILTER UNIT
Barbuda is a sparsely populated island in the nation of Antigua & Barbuda, that was hit rather hard by Irma. Much of the population of the island has simply left, but the people who stayed had very serious water needs. The Parker Unit (desalination) was chosen to meet the needs there. It is a workhorse, community-wide device that is designed to be in constant operation.
The Parker unit is installed at the Fisheries Complex. This location was chosen because it is secure, at the main arrival point for boats, and an ideal access point for the saltwater. The Parker unit produces about 500 gallons of clean water on an average day. The water is being used by everyone on the island, which currently is approximately 300 people.
*UPDATE* Last week (December 4-10), this unit filtered and produced 3,940 gallons of clean water which has been about average since Irma struck.
PUERTO RICO COMMUNITY FILTER UNIT
​In addition to the Sawyer Filters we have distributed, this program has also built a large Living Water Treatment System capable of providing clean water for thousands of people a day. It has been installed and online since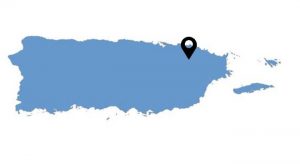 between Irma and Maria serving 800 households nearby as well as people from around the region.
The Living Water Treatment System was installed in Canovanas municipality, Campo Rico Barrio, which was devastated by both hurricanes Irma and Maria. Irma caused severe flooding in the flood-prone valley, followed by Maria's winds that destroyed many homes in the exposed mountainous areas. The municipal government identified the population in Campo Rico as among the most vulnerable in the community. The exact location of the filtration system was determined according to proximity to a constant and sufficient water source, a secure location for the system to operate, and easy accessibility for the local population to come to receive water. The system is installed at the base of a hillside with an estimated 800 households. The location is immediately adjacent to the main road passing through the southern half of the municipality, so there was constant heavy vehicle traffic that had access to collect treated water. The Water Charity & Samaritan's Purse partnership was the first aid organization to arrive in Canovanas—even ahead of the government response.​
Over 58% of all residents in Campo Rico lived below the poverty line in 2016.
72% of the head of households have less than high school education.
Many immigrant families in the area are not eligible for FEMA funding.
​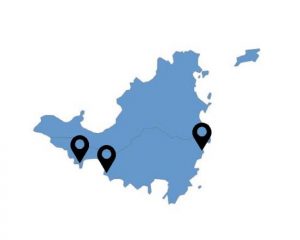 ST. MAARTEN COMMUNITY FILTER UNIT
In addition to the small Sawyer filter distribution we did for St. Maarten (see above), we also installed a large community filtration system that was able to generate water for 2,500 people a day. Reverse osmosis is a technique that allows for the complete removal of all pathogens and was a good choice for the specific conditions on Sint Maarten/ Saint Martin.
Samaritan's Purse installed four community-size reverse osmosis treatment systems in St. Maarten: • Two at Pelican Key Pier • One at Simpson Bay Coast Guard base • One at Oyster Bay. Water Charity was responsible for the one at Oyster Bay. These locations were selected in coordination with the municipal water authority on St. Maarten to supplement their water trucking capacity. Each of these locations was at the fringes of the damaged water distribution system, among larger populations without clean water, able to be secured, and had access to non-turbid sources of seawater. We estimate that our water system served a population of approximately 1,200 people during the critical period after Hurricane Irma, and before municipal potable water distribution could be restored on the island.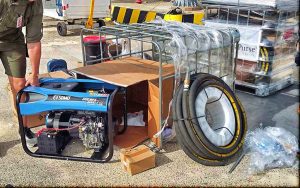 ​Puerto Rico Living Water System​
This disaster response program has been a big deal, and we are committed to continuing helping the people who suffered from Hurricanes… even after the events have faded from the media coverage. We would like to expand our help and are currently looking into ways to aid the hard-hit US Virgin Island St. Croix. Updates will be posted here when available, and we will nest book pages for information on the 5 projects currently comprising this program.
Please consider supporting this work. Every donation counts. With more money, we can help more people. Having lost their homes, and livelihoods, the least we can do for them is to make sure the water they drink is not causing loss of life as well.
Initial funding to implement this program has been provided by the Paul Bechtner Foundation.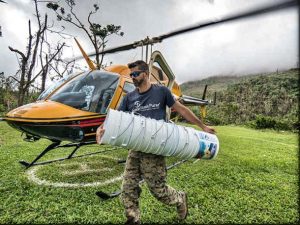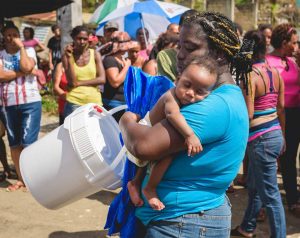 Puerto Rico Helicopter Deliver of Sawyer Bucket Filters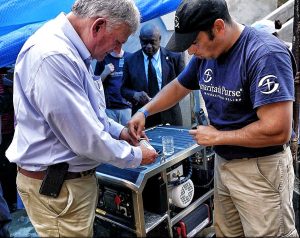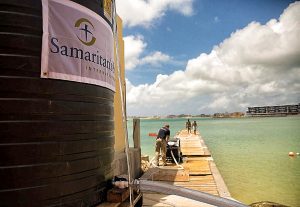 Barbuda Parker Filter Installation​ St. Maarten Reverse Osmosis System