CACHES Community Art and Recreation Center Latrine Project – Mozambique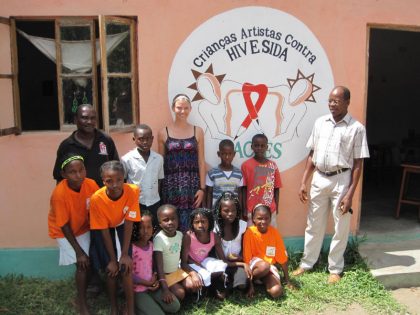 Location
Chicumbane, Xai Xai District, Xai Xai Province, Mozambique
Community Description
Chicumbane is a medium-sized rural community that lies directly on the national highway a short distance from the capital of Gaza province, which has the highest HIV prevalence rate in Mozambique at 26%.
Chicumbane's location creates an environment of stark contrasts. While many middle-class families living in cement houses with electricity commute to their jobs in the nearby provincial capital, others living in reed shacks rely heavily on agrarian activities such as the raising of livestock and subsistence farming.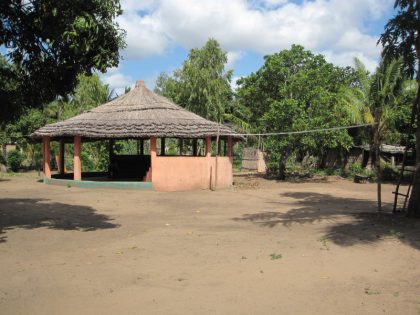 In addition, there is a large population that has a traditional mentality towards work and education, preferring to keep girls at home and send boys to herd in the pastures, rather than send the children to school. Both the standard of living and the lack of education impede the knowledge and understanding of basic community and family health concepts.
Crianças Artistas Contra HIV e SIDA (Artistic Children Against HIV and
AIDS), or CACHES, is a Community Art and Recreation Center in the community of Chicumbane. The vision of CACHES is of a world in which children grow up to be self-confident and empowered adults. Dedicated community members have come together with the mission to create a refuge where local children can be motivated, encouraged, and educated so that they gain the necessary information and skills to live happy, healthy lives free from HIV and AIDS.
At present, the basic latrine at CACHES is made of reeds and wire, and is insufficient to properly accommodate the high volume of use that results from the participation of youth in lessons and activities. Programs were recently expanded to accommodate up to 75 people per day, and there is an urgent need to improve the sanitation facilities.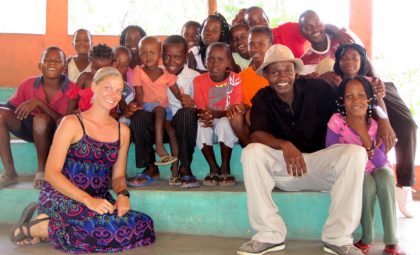 Project Description
This project is to build a new latrine complex at the center, with separate sides for boys and girls.
It will be a simple rectangular cement block structure with one wall slightly higher so that water will easily drain off the corrugated tin roof. Its dimensions will be 2 meters x 3 meters x 3/3.5 meters.
The two latrines will be lined with concrete blocks, and covered by concrete latrine platforms. There will be two locking doors to ensure privacy and prevent misuse.
Project funds will be used to purchase and transport materials, including blocks, cement, gravel, sand, vents, and doors.
The work will be done by local contractors and art center staff.
Once completed, the staff and activists of the community art center will maintain the facilities.
Project Impact
The project will benefit 465 people, including 50 registered local youth and 15 formal staff, plus another 100 youth and nearly 300 community members involved in activities throughout the year.
Peace Corps Volunteer Directing Project
Emily McIntosh
Comments
A healthy environment at the center will foster the teaching of proper health behaviors, thereby leading to a reduction in disease.
Dollar Amount of Project
$500.00
This project became infeasible, and was not implemented.