Conclusion of Burera Five Youth Groups Training – Rwanda
This project in Rwanda was made possible through the partnership of Water Charity and the National Peace Corps Association, working with Friendly Water for The World and Hand in Hand for Development.
To read about the start of the project, CLICK HERE.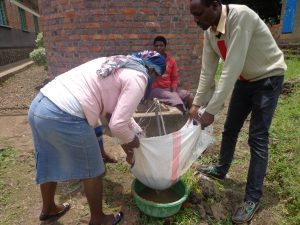 This project was a complete success, and all the goals set for the training were achieved or surpassed.
Background:
Burera District is located in the northern province of Rwanda, adjacent to the Ugandan border, and between the cities of Musanze and Byumba. It is close to Volcanoes Park, and the soil does not hold water well. Lack of access to clean water is the norm, and waterborne illnesses are common, even in the few places where there is tap water​.
Youth unemployment is virtually universal in the area. So, the capacity to generate income selling water and filters for the young people that this project engendered is crucial and very beneficial.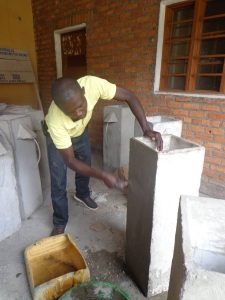 Report From Field:
With a grant from Water Charity, and in partnership with Friendly Water for the World and local authorities, Hand in Hand Development held a five-day training for 58 unemployed youth in the fabrication and distribution of BioSand Filters, and in teaching community sanitation and hygiene. They came from five different parts of the District. Local authorities provided $4,645 plus the training venue.
In the two months following the training, the youth constructed, sold, and installed 89 BioSand Water Filters. They are now engaged in a project to build and install 97 BioSand Filters for families impacted by HIV, contributing all of the labor for the project. Five groups have now been equipped.​
The knowledge of the participants was tested following the training. They were able to explain the differences between clean and dirty water (and what were the causes of water becoming contaminated). All of them knew how to treat contaminated water, and 100% began to engage with their communities on how to protect water sources, and how to eradicate waterborne illnesses.
58 youths were trained in the making of BioSand Filters.
The trained youths are now organized in 5 groups located in 5 different districts.
As if this update, the groups have already made hundreds of filters as follows:
| | | |
| --- | --- | --- |
| GROUP NAME | BSF Built | BSF Installed |
| Muhabura | 495 | 488 |
| Gahinga | 412 | 392 |
| Ruhondo | 361 | 301 |
| Bisoke | 424 | 418 |
| Kabuye | 272 | 233 |
The groups are operational and currently increasing their operations! They have also trained others to do the same work. This is creating its own industry whereby the previously unemployed youths can make and sell filters. Additionally, they, as well as the recipients of filters, are able to sell filtered water! A marvelous success indeed.
While we may never know the full extent that this training has had, one can be sure that a very large number of people will have access to clean drinking water and the knowledge needed for this will spread far and wide in these industrious DIY communities. Yay!