Burera District Youth Groups Training – Rwanda
This project is made possible through the partnership of WATER CHARITY and the NATIONAL PEACE CORPS ASSOCIATION, working with Friendly Water for the World and Hand in Hand for Development.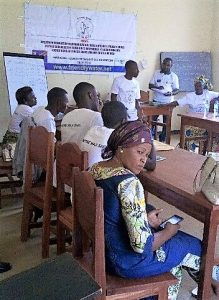 Location
Burera District, Rwanda
Community Description
Burera District is located in the northern province of Rwanda, adjacent to the Ugandan border, and between the cities of Musanze and Byumba. It is a highlands district, home to Lakes Burera, Ruhondo and different rivers from Volcanoes Park.
Problem Addressed
In many of the sectors of the district, people do not have access to clean water. This training program is designed to train youth from six sectors that surround Burera and Ruhondo lakes, which are the main sources of water in these sectors. People from these sectors fetch water from lakes and rivers to be used at home. As a result, waterborne related diseases are frequently found there.
Project Description
This project is to provide 6 extensive training on hygiene, sanitation and bio-sand filter construction in BURERA District (Rwanda). Six groups with a total of 120 youth beneficiaries from 6 different sectors will be trained and provided materials and tools with which to make their own filters. This training will be conducted by FWFW in partnership with the local authority.
The project focuses on the youth, as they are the change-makers. In Rwanda they face many problems, including lack of jobs, leading some of them to bad decision making. The ability to make and sell filters as well as the sale of filtered water gives them a viable profession while also uplifting the health of the entire area.
Aid to those trained and follow-up services (including access to more materials) will be ongoing. Extensive follow-up on how these 120 people have progressed in making filters and providing water to the Burera community will be provided.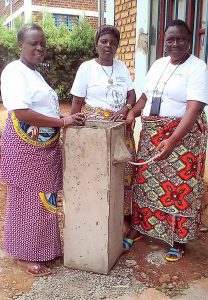 Short-term
This training will increase:​
* The knowledge of the trained youth of the community in general on hygiene and sanitation.
* Sources of water maintenance.
* Knowledge on the treatment of water.
* Education on the consequences of using unsafe water and benefits from using clean water.
* Knowledge leading to job creation.
Long-term
* Start of small projects in order to increase incomes.
* Reduction of youth unemployment in Rwanda.
* Reduction of diseases from unsafe water by distribution bio-sand water filters.
* Contribution to the community's economy and the whole country in general.
* Increased number of people with access to clean water.
* Economic growth of the District since people will be healthy.
Community Organization
A HAND IN HAND FOR DEVELOPMENT is a non-profit organization managed by dispositions of law Nº 20/2000 of 26th July 2000 related to non-profit organizations.
The organization works with widows living with HIV/AIDS, Orphans, and street kids in Rubavu, Ngororero, Musanze, and Nyabihu Districts.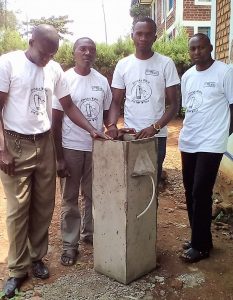 The head office of the organization is established in the Kivumu cell, GISENYI Sector, RUBAVU District, WESTERN Province. In partnership with Friendly Water for the World, it trains the Rwandan youth in job creation and self-employment in the domain of clean water via bio-sand water filters construction. The youth is also being trained in hygiene and sanitation, and after these trainings, they will start to run a business of selling the filters in order to grow their income and save the lives of people via the distribution of clean water.
Project Impact
120 youth from six sectors of BURERA District, their families and to the population of this District in general through access to clean water.
Friendly Water for the World Volunteer Directing Project
Niyitegeka Patient
Monitoring and Maintenance
The impact will be assessed after 6 months. From the profits of this project, trained youth will invest in different businesses and they will keep providing clean water to the community via bio-sand water filters distribution.
Funding
This project has been funded by an anonymous donor. If you like this project, please donate to our East Africa Water & Sanitation Program so that we have funds on hand for our next great project.
THIS PROJECT HAS BEEN COMPLETED. To read about the conclusion, CLICK HERE.