Bun Ranny Hun Sen High School Bathroom Project 1 – Cambodia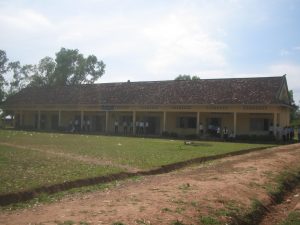 Location
Dang Tung Commune, Dang Tung District, Kampot Province, Cambodia
Community Description
Dang Tung District, Kampot Province is a fairly young district that was created with pieces of Kampong Trach District and Chouk District in 1986. Because the road to it was until recently quite bad, there is very little presence of NGOs in the district, and the development work carried out by the district itself has been minimal, if well-intentioned.
There are 55,512 people in the district, 28,166 of whom are women, as of the most recent survey done by the district. Most people are rice farmers, even if they have a second job. This includes officials and teachers.
The district is very poor, with 3,669 people living at the lowest level of poverty and 1,468 living at the second-lowest level.
There are 1,729 students at Bun Ranny Hun Sen High School, 751 of whom are female. They come from 7 different communes, as the school is one of only two high schools in the district.
There is only one existing bathroom for the students, and it is located far from Building A, where the project is to be implemented. Also, the current bathroom has no system for collecting and storing water in the rainy season, so in the dry season, it is left without consistent water, causing the students to go to the restroom in the fields behind the school instead.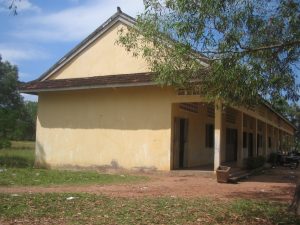 Building A, specifically houses 451 students, 210 of whom are female. Classes 11B, 11C, 11D, 11E, 11F, 7F, 8B, 8C, 8D, and 8E all study in it. (Because there is a lack of school buildings, some classes use it in the morning, and different classes use it in the afternoon, depending on the day.)
Building A is also located directly next to an area where snacks, noodles, and morning rice are sold. The sellers in that area also have a need for the facilities
Project Description
This project is the first of a series of projects to construct bathrooms at the high school. Water Charity has committed to this project and a subsequent one. There is a need for 4 to 6 bathrooms, but the progress in meeting the overall needs will depend upon funding resources, adequate performance on the initial projects, and school and community participation.
This first project will be a girl's bathroom adjacent to building A. The follow-up project will be either an adjoining boy's bathroom at building A or a bathroom at Building E, at the discretion of the school.
The bathroom will include a tank inside the bathroom fed by piping extracting water from rain off the roof. It will also have two tanks behind the bathroom to provide students with rainwater for drinking and washing their hands.
Water will be conserved during the rainy season to provide for proper sanitation in the dry season. This water will also give the food sellers a supply of water to properly wash their dishes. (They currently use water from a nearby rice paddy.)
Project funds will be used to purchase the bricks, cement, poles, wire, sand, rocks, aluminum roofing, vents, nails, tiles, grout, wood beams, toilet basin, sewage tank, pipes, drain, water storage tanks, and labor of skilled masons required to build the bathroom.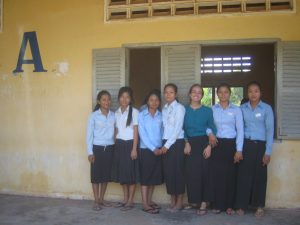 Although the school is very short of funds for development projects, it will contribute 10% of the costs for this necessary project.
Project Impact
The project will initially serve all 451 students in Building A but will be used for girls only when the second bathroom is built. The bathroom will also be used by the 6 female sellers selling food in that area, and all the students and teachers (at least 50 a day) who eat in that area.
Peace Corps Volunteer Directing Project
Lauren Arnold
Comments
This project will immediately remedy a great need. It is well planned so that it can be replicated upon successful performance.
To read about the follow-up project, Bun Ranny Hun Sen High School Bathroom Project 2 – Cambodia, CLICK HERE.
You may also donate to Lauren's next project: Prey Sumnang Well Project – Cambodia.
Dollar Amount of Project
$450.00
Donations Collected to Date
$450.00
The following donations for this project are acknowledged:
$150 from Hugh Kaplan, Bethesda, MD, USA
$250 from Jan Baker, Providence, RI, the USA with the dedication: In honor of Lauren Arnold's outstanding accomplishments, volunteering for the Peace Corps in Dang Tung, Cambodia.
$50 from Roslyn Lit, Memphis, TN, USA
Dollar Amount Needed
$0.00 – This project has been fully funded.
Any funds collected over the amount needed for this project will be applied toward a follow-up project by Lauren and/or a project by one of her counterparts in Cambodia.

This project has been completed. To read about the conclusion of this project, CLICK HERE.