Bulalacao Pump Project – Philippines
Location
Bulalacao, Oriental Mindoro, Philippines
Community Description
Bulalacao (translation: Shooting Star), Oriental Mindoro, Philippines is a historical and beautiful municipality. It is thought to be the oldest population center in Mindoro dating back to the 10th century.
Bulalacao is one of the poorest municipalities in Oriental Mindoro and indeed all of the Philippines. Bulalacao is number one in the entire MIMAROPA region of the Philippines for malnutrition and underweight children.
Due to the effects of El Nino, drinking water levels are at an all time low, as population levels are at an all time high. Water is at such a premium, even during the rainy season, that houses with water faucets receive water from one hour to two hours a day.
Most persons not living in town proper are required to walk long distances to retrieve water for daily needs. During the dry season, drinking water is often skimmed off the top of mud from nearly dry and contaminated surface water reservoirs.
This project will be carried out in four locations with limited access to water during the dry season: Cambunang, San Juan, Maujao, and Bancal.
Project Description
Four manual pumps will be constructed in the most strategic locations in the municipality, providing water to the most at need and largest population concentrations.
The first manual pump will be placed in a low income housing project that serves approximately 200 people in Cambunang.
A second manual pump will be placed in San Juan, in the village proper, serving approximately 150 people.
A third manual pump will be placed in a low income housing project, Maujao, serving approximately 250 people.
A fourth manual pump will be placed in Bancal, a village where salinity is a problem year round. This pump will serve approximately 250 people.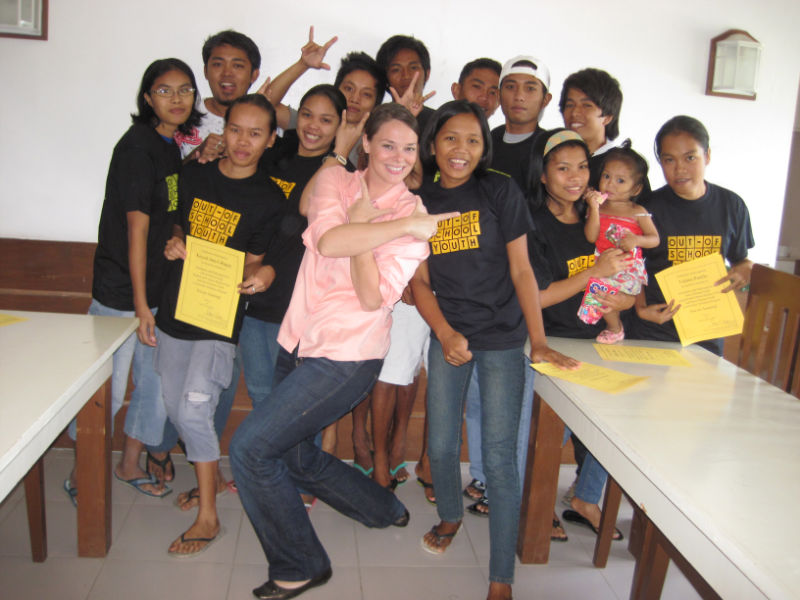 The project is being carried out under the direction of the Municipal Social Welfare and Development Office. A local contractor will install the pumps.
Project Impact
850 people will benefit from the four pumps.
Peace Corps Volunteer Directing Project
Rebecca E. Kington
Comments
The use of contaminated water will be eliminated, thus greatly reducing gastrointestinal illness.
Providing access to safe water in convenient locations will lessen the burden of traveling great distances each day to retrieve water for the needs of the family. Women will be the prime beneficiaries, as they will have time freed up to go to school and perform other work.
Dollar Amount of Project
$477.00
Donations Collected to Date
$477.00
Dollar Amount Needed
$0.00 – This project has now been fully funded through the generosity of Hack & Slash, who have designated Water Charity as beneficiaries of this year's Hack and Slash Christmas Special in Color held in Baltimore, MD.
The project is dedicated in honor of Jenny O'Connor.
We encourage others to continue to donate using the Donate button below, and we will notify the PCV of your donation. Additional funds will be used to fund future projects in the country of service.
This project has been finished. To read about the conclusion of the project, CLICK HERE.