Bukoba Water Filter Training & Catchment Building – Tanzania
Water Filter Construction Training & Rainwater Catchments For 10 Villages in Bukoba

This project is made possible through the partnership of WATER CHARITY and the NATIONAL PEACE CORPS ASSOCIATION, working with Friendly Water for the World.

This project is already underway, and the training portion has been completed successfully. The catchment systems are being installed, and the villages already have access to clean water for the first time. Health results are already very good. Pictures & Updates follow
#below, and as news comes in from the communities, it will be appended to the bottom of this page.
Problem Addressed:
The rural areas of the Bukoba region, in far northwestern Tanzania, have some of the worst water conditions in the country. There are virtually no wells or pipelines. Water is distributed from rivers and Lake Victoria by bicycle or gathered in buckets and resold (31 cents for 20 liters). Women who do not have the means to pay are reported to walk as far as nine kilometers each way in search of water, with the resulting loss in community productivity.
According to the largest district hospital in Muleba District, out of every 500 patients, 430-450 are being treated for waterborne illnesses, mostly typhoid and amoebic and bacterial dysentery. The already limited health system in the region is overwhelmed. Through the use of Friendly Water for the World's epidemiological questionnaire, it was found that children miss on average 11 days of school every month on account of waterborne illnesses.

Seeing the success of Water Charity & Friendly Water training in other regions in northern Tanzania, the local government requested our assistance through our affiliate in the region, the Community Life Amelioration Organization (CLAO), based in Mwanza.
Project Description:
Working together with the local government, CLAO identified ten already existing self-help groups in the region, with 440 members (13% have HIV, with the rate among women more than triple that among men.) Four of the 10 groups are all-women.
CLAO is planning two trainings – back-to-back – with a total of 81 representatives of the 10 groups. Members will be trained in BioSand Filter fabrication, distribution, installation, and maintenance, as well as teaching others about community sanitation and hygiene. The training are planned around Uhuru Torch Day (Tanzania Independence Day) celebrations (September 7th) so that the opportunity can be used to promote Filter sales. All participants are to receive Filters for just the cost of materials, which will mean that the ten communities will have an immediate experience of the effectiveness of BioSand Filters.

Local government is contributing substantially to the project. They have already purchased three of the required 20 steel molds (two more are being contributed by a Massachusetts Rotary Club), and are providing all meals and transportation for training participants. They are also planning to help with Filter promotion.
An indigenous Bukoba philanthropy primarily serving children, called "Water for Life", to date has drilled two wells, but is changing its focus and plans to provide Filters to vulnerable groups who cannot afford their full cost. They hope to assist with promotion as well.
The self-help groups have also already agreed to save up some of the margin from Filter sales toward building rainwater catchment systems/Ferro-cement tanks. At least 3 full catchment systems will be built from this project directly, with many more to come as the people are able to sell filters and water to raise funds. Training will be provided by CLAO so that people will learn to fabricate themselves. At the current price for dirty water, clean water could be sold (as WC & CLAO have already successfully arranged with two communities of people with HIV in Mwanza,) with more funds going toward building additional catchment systems.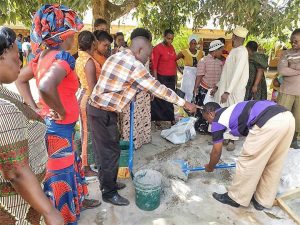 Project Impact:
The project aims at tackling the twin problems of lack of clean water and mass unemployment. Initially, the project will serve the 440 families represented in the self-help groups – about 6,000 people. It is realistic that each group will fabricate and sell a minimum of 250 filters in the first year alone, reaching almost 30,000 people. Schools, health clinics, and orphanages will be equipped with BioSand Filters. People with HIV will no longer suffer from opportunistic infections. The child mortality rate will decline. The health system will no longer be overwhelmed.
As the sale of Filters begins to translate into the building of rainwater catchment systems, for many the "long walk to water" will be reduced. Consciousness about clean water and the requirements of community sanitation and hygiene will be enhanced.
Above all, the communities will be sharing hope through clean water.
Direction:

The project is being directed by CLAO, under the leadership of Kenedy Mahili, CLAO Director, and Obed Gidion, Treasurer. CLAO has broad experience, having trained 18 ongoing groups in Tanzania, including the Uzima Center for People with HIV, Masai women in Simanjiro, pastoral communities in Singida, and a range of programs closer to Mwanza. They are the chief trainers for the celebrated integrated water program with people with albinism in Shinyanga and Geita.
Monitoring:
Each group will have a trained monitor, who will go into homes to ensure BioSand Filters are installed properly and are being used correctly. Reports from each group will be done in 90 days, at which time business plans will be adjusted as necessary. All 440 members of the 10 self-help groups have already taken the epidemiological survey, hence providing "before" data. The Office of the President of Tanzania has sent a written directive to all regional and local government officials, requesting they do what they can to assist CLAO in its clean water efforts. The local government also has a strong interest in this project and will be monitoring health system data, including hospital admissions, with an eye toward expanding these efforts even further.


Bukoba, Tanzania BioSand Filter/Community Sanitation, and Hygiene Training
To be conducted by CLAO – Community Life Amelioration Organization – Mwanza, Tanzania
10 Groups in 10 different villages to be trained and equipped
81 Participants – two trainings
Qty
$/Unit
Total Req.Other
Materials Costs
Steel Molds – two per group
20
$600
$10,200
$2,800
Five are being paid for by the local government and a Mass. Rotary Club
Toolkits
10
$450
$4,500
Starter Materials
10
$450
$4,500
Includes sand/cement/gravel/tubing/tarps/metal sheeting
Materials for Trainee Filters
81
$18
$1,458
Transportation of materials
1
$450
$450
Subtotal
$21,108
Education Costs
Training Manual
81
$4
$324
Certificates
81
$3
$243
Projector
1
$150
$150
Notebooks and Pens
81
$2
$162
Provided by the participants
Subtotal
$717
Trainer Costs
Trainer Honoraria – two trainings
4
$250
$1,000
Two trainers in each training
Trainer Lodging – 6 days
24
$30
$720
Two trainings
Trainer Meals
24
$15
$360
# of days
Trainer Transport
2
$85
$170
Subtotal
$2,250
Trainee Costs
Trainee Meals
304
$7
$2,128
Provided by local government
Trainee Transportation
304
$4
$1,216
Provided by local government
Subtotal
$0
Evaluation and Followup
Follow-up Visits
2
$400
$800
Transportation
2
$85
$170
Subtotal
$970
Administration
Administration
1
$1,800
$1,800
Includes data analysis and reporting
Fund Transfer Fees
1
$600
$600
Training Site
2
$300
$600
Two trainings
Subtotal
$2,400
TOTAL BUDGET
$27,445
This project has been paid for through the generosity of an anonymous donor.