Buipe School Permaculture Project – Ghana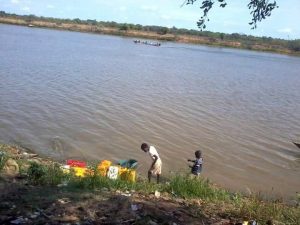 This project is made possible through the partnership of WATER CHARITY and the NATIONAL PEACE CORPS ASSOCIATION.

This project has been completed. To read about the conclusion, CLICK HERE.
Location
Buipe, Northern Ghana
Community Description
Buipe is a small town and is the capital of Central Gonja district, a district in the Northern Region of north Ghana with a population of about 8,000 people. Because of the proximity of limestone deposits, the town is well known for its cement production.
The people of the town engage in occupations such as trading, farming, and fishing. Farmers grow foodstuffs such as yam, corn, beans, peanuts, cassava, potatoes, and millet. Part of this region is found to be a natural growing ground for shea trees. In addition, farm animals such as cattle, goats, chickens and guinea fowls are also raised by the people.
Some of the people living in this part of the country are the Gonjas, Ewes, Adaa, and Fulanis. They speak languages like Hauza, Gonja, Frafra, Sesala, Ewe, Adaa and Bono. Some of the dishes eaten are tuozafi, omotuo, konkonte, yaw fufu, waakye, and many others.
About 80% of the people living in the town are Muslims, 15% Christians and 5% belonging to other religions. The main natives of the land are the Gonjas; other tribes migrated to the town due to some similarities, such as occupation. The people of Buipe are very friendly and welcoming.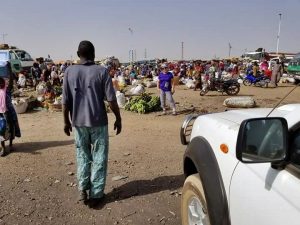 A major landmark is the Black Volta River, which links many other towns, cities, and villages. It is the most common means of transport, as it is accessible and economical, being used to move farm produce, animals and industrial products. The river separates the Northern Region from the Brong Ahafo Region.
Buipe is also known for its busy market hours from Saturday to Monday. People from all over Ghana and nearby countries come to buy and sell during these days of the week. Some of the major products are foodstuffs, clothing, farm animal, jewelry, crafts and more.
The Northern Region is the hottest region in Ghana with rainfall of about 150-250mm. There is only one rainy season in this part of the country, which falls between July and September.
Buipe and other parts of the Northern Region are prone to wildfires during the dry season. Sometimes these fires are caused by hunters or smokers.
There are educational centers from basic to secondary school. Many years back, the Ghanaian government established a policy favoring school attendance for the majority of the people, and school turnout is very high.
Problem Addressed
People living in this area of the country, especially school children, do not have access to effective gardening practices, which would enable them to learn about, grow, and eat healthy foods.
The district benefits from a government school feeding program, but, for economic reasons, the diet prepared for the children is not well balanced.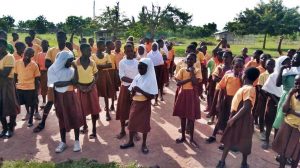 Project Description
CTNP team will travel from Accra to Buipe to meet up with Peace Corps Volunteer Maria Hettel, and spend two weeks in designing and establishing three different school vegetable gardens in the area using the permaculture approach, and teaching the process.
The typical garden will measure 80 feet square on each school compound. On the first day of the event school, kids and teachers will be introduced to the permaculture concept followed by a 3-day field design approach.
Some of the activities of the project are an introduction to permaculture, fencing, construction of beds, nursing of seeds, irrigation and watering systems, transplanting and weeding.
Project Impact
4,000 people will benefit from a continuing source of nutritious foods and the knowledge that can be proliferated.
Project Administration and Implementation
The project will be administered, implemented, and evaluated by Solomon Amuzu, Founder and Director of Call to Nature Permaculture (CTNP), and Peace Corps Volunteer Maria Hettell.
Monitoring and Maintenance
Maintenance and control training will be given to selected school leaders and teachers, and they will be responsible for the continuing upkeep and maintenance. The CTNP team together with Maria Hettel will provide at least a monthly check-up to ensure that the project serves its purpose.
Comments
This project will serve many purposes, such as:
• Balancing the diet of the exiting school feeding
• Serving as a practical learning experience to the school kids and staff
• Providing surplus from the garden to be sold, channeling proceeds into other financial needs of the school
• Serving as a model for other schools and communities in the region to duplicate
• Using the permaculture approach of gardening or farming, which contributes to the health of the environment, since no synthetic chemicals or GMO products are used.
Project Funding
This project has been paid for through the generosity of an anonymous donor. Your contribution using the Donate button below will be used for our next project in Ghana.

Conclusion of the Buipe School Permaculture Project – Ghana
This project has been completed under the direction of Solomon Amuzu, Founder and Director of Call to Nature Permaculture (CTNP), and Peace Corps Volunteer Maria Hettell.. To read about the start of the project, CLICK HERE.
The project was implemented to design and establish three different school vegetable gardens in the area using the permaculture approach, including training in permaculture, fencing, construction of beds, nursing of seeds, irrigation and watering systems, transplanting and weeding.
Solomon reports:
This project has been completed successfully in all three northern community schools. Our team spent about 6 days each in a community.

On the first day of each project, students, teachers, Peace Corp Volunteers, counterparts and interested community members were given class introduction to PERMACULTURE, its ethics and principles. The work then proceeded with the actual implementation during the following 5 days.

Words like, Permaculture, swale, keyhole, biochar, companion planting, live mulch, ground water recharge, mulching, staking, composting and many more were all new words practiced in the groups.

The proceedings of the work included: clearing, fencing, construction of beds, manuring, compost construction, planting, and installation of small watering systems. Different types of beds and planting techniques were implemented to conserve ground water, control erosion, repel insects, disease control and high yielding.

The most exciting thing about the project was that what the people thought were waste were all turned into purposeful gardening elements. A few such materials were shells of ground nuts, corn cobs, rice chaff, livestock droppings, wood ash/charcoal, and neem seeds.

Vegetable varieties like cucumbers, carrots, beetroot, spinach, lettuce, squash, cabbage, mint, lemongrass were planted.

We expect that within the coming 8 weeks the various gardens will start feeding the communities, especially balancing the diets of the school children. We observed that, previously, vegetables were completely missing in the diets of the people in this area of Ghana.

Our initial plan was to work with one Peace Corp Volunteer. We ended up working with 4, all living in nearby villages. In addition to Maria were Blaire, Nathan and Adams. CTNP is pleased for this great participation from the Peace Corps community in this area.

Some of the communities that benefited from this project are Langbesi, Daboya, Boamasa , Ben krom and Alhasan kuraa.

Peace Corps and counterparts living in the various communities will be in charge of running the garden sites, together with the selected garden club team from each school and the school authorities.

Here are the comments from the community:

– Very true we are dying from synthetic chemicals for this while, now we have the solution
– Wooooow its interenting learn all this techniques
– I will design one at home
– How do we prepare this vegetable?
– How long does it take for each seeds to grow fully?
– I never know this materials are all good for fertilizing but now I know
– How do we know when the compost is ready for use?
– What materials cant be added to the compost?
– We thank you and water charity for doing this project for us
– Can you please come back another time for a larger training?
– Eiiiii so planting strong scented herbs can repeal inspects?
– This is great stuff you guys are doing and we really need it
– I want to follow you and work with you so I can learn more after school hours.
– The head of the school, PCVs and counterparts thanked us for such an amazing project implemented in their communities.

From Call To Nature we say a very big thank you to WATER CHARITY for working us in making the living of our people and the earth more enjoyable. Not forgotten are all the PCVs who participated in this wonderful project.
We extend our thanks to Solomon and Maria for completing this important project.