Conclusion of Boon Rah Nih Hun Sen Chantrea High School Bathroom Project – Cambodia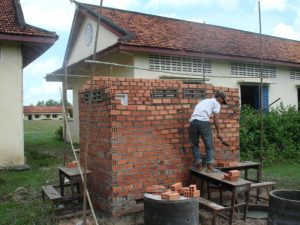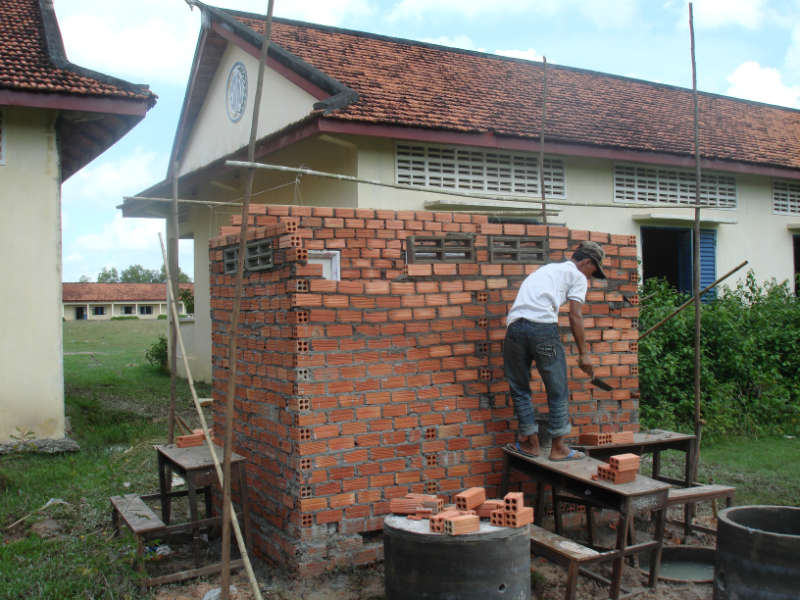 This project has been completed under the direction of Peace Corps Volunteer Wesley Tom. To read about the beginning of the project, CLICK HERE.
The project was to build a bathroom at the school.
Wesley reports:
I'm very pleased to tell you that the Boon Rah Nih Hun Sen Chantrea High School Bathroom Project is now completed.

September 27th we met with the construction contractors and a district government official to sign a contract and decide the final location of the latrine. The next day, most of the construction materials were transported to the site ate the high school.

Construction began on September 30th, with students and staff helping to dig the 2-meter holes that house the pits for human waste. Also, some students and staff contributed bricks to help supplement funds. There was a three-day holiday from October 3rd to the 5th where construction stopped.

The entire structure of the latrine is made of brick and mortar. There are two rooms, one for boys and one for girls.

In each room there is a cistern for hand washing and bucket flushing. The toilet is a squat toilet with a ceramic bowl. The walls of the structure all have a stucco finish, and the floor on the inside of the latrine is tiled for easy cleaning. The toilet is connected to the ventilated pits with 4-inch PVC piping. The doors to the structure are a light weight plastic. There are slots in the walls, and the tin roof is raise slightly above the structure to help with ventilation. Finally, the exterior of the structure has received several coats of mold-resistant paint.

All of this was done by the hired contractors, and was completed in an 18-day period from September 30th to October 17th. In the near future the students and teachers will be doing a little landscaping to create a clear path to the latrine.

The students have been thanking me non-stop. They are very glad that they do not have to "use a field as a bathroom" anymore, especially the female students.

I cannot thank you enough for your help, and this community sends their gratitude to you!
We are grateful to Wesley for completing this project, and again extend our thanks to Steve Tom for providing the funding, and to Wesley's friends and family for providing additional funds for future projects.