Boon Rah Nih Hun Sen Chantrea High School Bathroom Project – Cambodia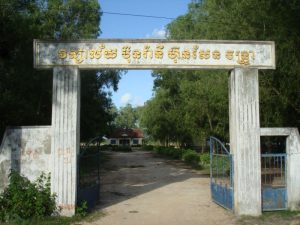 Location
Boh Village, Mesar Thngok Commune, Chantrea District, Svay Rieng Province, Cambodia
Community Description
Boh Village is a small rural village, with a population of approximately 1,014 people, located in the Southeast section Svay Rieng Province, Cambodia. Boh lies about 1 kilometer northwest of the district village Pou, in Chantrea district. It is approximately 50 kilometers from the provincial town of Svay Rieng, and is about 7 kilometers from Vietnam. It is 12 kilometers to the nearest paved road, National Highway 1, which runs through ChiPhu on the way from the capital Phnom Penh to Ho Chi Min in Vietnam.
Factory work and rice agriculture are the main means of income for most people in the community. The land is very flat and conducive to rice farming, and the border between Cambodia and Vietnam is full of many factories that provide jobs for many families living in Chantrea District.
Boon Rah Nih Hun Sen Chantrea High School is located on the northern edge of Boh village, and serves as the main high school for the entire district. It supports the secondary educational needs of 26 surrounding villages. This school also serves as a recreation area for many surrounding villages, and hosts many of the local sporting events, specifically volleyball and soccer.
Over 775 students attend Boon Rah Nih Hun Sen Chantrea High School, and they have a staff of approximately 34 teachers.
There was once a working stand-alone building that has long been abandoned.
Problem Addressed
Currently, Boon Rah Nih Hun Sen Chantrea High School has no working bathroom for the student body. Also, the people who use the campus for recreation have nowhere to relieve themselves.
The lack of facilities creates large sanitation problem for several reasons. Young women and men are forced to walk a long distance out into the rice fields to use the bathroom. There is no place to wash hands, and there is no privacy. Human waste is being spread into the environment with no regard for where it ends up, spreading disease.
Project Description
This project is to build a bathroom at the school.
A new stand-alone building will be built on school grounds approximately 20 meters from classrooms and wells, complying with the environmental safety standards. There will be one building with two latrines, one for men and one for women.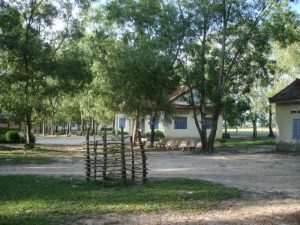 Each latrine will have a ventilated concrete pit, a ceramic squat toilet, and a cistern to be used for bucket flushing. The floor and cistern will be tiled for easy cleaning, and the tile will extend an additional meter up the wall.
There will be a tin corrugated roof, and the building itself will be constructed from bricks with a stucco finish. The doors will also be tin or aluminum. Water for the cisterns in the bathrooms will be retrieved from a well on campus.
The School Director has found a local construction company that will provide all of the skilled labor and building supplies. The students and several community members will contribute unskilled labor, such as digging holes for the concrete pits, as well as donating bricks to help cut costs in supplies.
Water Charity funds will be used to pay for the building materials and the skilled labor.
Project Impact
840 people will benefit from the project, consisting of 775 students and 34 staff, plus those community members who use the school grounds for sports and exercise.
Peace Corps Volunteer Directing Project
Wesley Tom
Comments
This is an important project that will increase the capacity for sanitation at the school and reduce the spread of disease on campus.
Dollar Amount of Project
$555.00
Donations Collected to Date
$555.00 + additional amounts
Dollar Amount Needed
$0.00 – This project has been fully funded through the generosity of Steve Tom of North Hollywood, CA, USA, with additional donations for future projects from friends and family of Peace Corps Volunteer Wesley Tom.
We encourage others to continue to donate using the Donate button below, and we will notify Wesley of your donation. Additional funds will be used to fund the next project by Wesley and/or those of other PCVs in the country of service.

This project has been finished. To read about the conclusion of the project, CLICK HERE.