Conclusion of Bangu Village Well Improvement Project – Malawi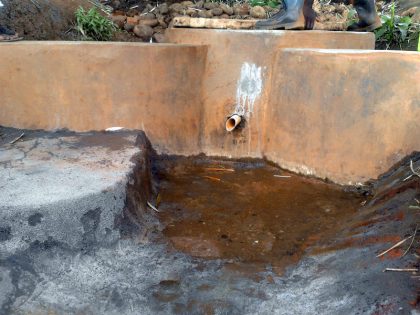 This project has been completed under the direction of Peace Corps Volunteer Oliver Cole. To read about the beginning of the project, CLICK HERE.
The project was to improve four wells in Bangu Village.
Oliver reports:
I am happy to report that the Bangu Village Well Improvement project is completed. Thanks to the Tea Research Foundation of Central Africa, who provided free transportation for materials, the project was completed under budget.

We were also able to more than double the impact of the project repairing nine wells in Bangu and Duswa villages rather than just the proposed four.

Funds from Appropriate Projects were used to purchase materials and pay for the building contractor.

The Bangu Village Development Committee managed the entire project and work was carried out to replace outlet pipes, repair cracks and holes to help the wells retain water, and cement sanitation platforms to reduce standing water and mosquito breeding areas.

The Health Surveillance Assistant for Bangu village, Jane Evale, inspected the wells upon completion and said that she saw the Village Development Committee used a good design in their repairs. Andrew Mario, the project manager for the VDC, said that villagers were proud of the development in their area.
We extend our thanks to Oliver for completing this great project and to Marcia Wijngaarden for providing the funding.