Ban Nongkad School Kitchen Project – Thailand
Location
Lomsak, Khukhan, Sisaket, Thailand
Community Description
Ban Nongkad is a rural community in the northeast area of Thailand. Most families in the village of 316 families are farmers who grow rice.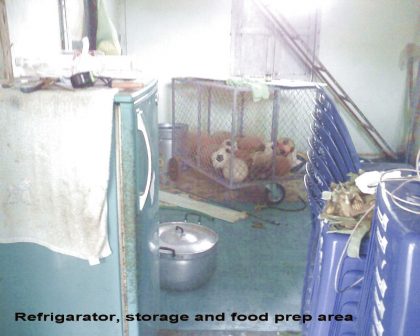 The Ban Nongkad Elementary School is important to the village for the education of local students and also for all school and most village activities. The sanitary condition of the kitchen area of the school has been a problem for a long time.
The water pipes at the school are rusted and leaking. The roof has no gutters and in the rainy season, water runs freely everywhere.
Only one sink exists, and it is used to wash food, dishes, hands and many other items. It is located outside of the kitchen room and lacks a roof to block rain accumulation.
Food is currently prepared on low traditional Thai sitting 'tables' outside the kitchen room, in an unsanitary environment.
Project Description
A new septic tank and new rain gutters and downspouts will be installed.
A new sink will be installed inside the kitchen, and the current handwashing area will be renovated. New piping will be installed as needed to accomplish the job.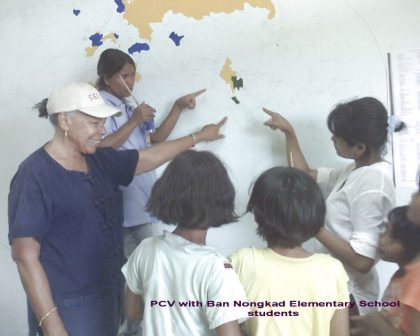 The kitchen will also be improved by the installation of a food preparation table and closed cabinets to hold the cooking and eating utensils. The school will also purchase new pots, pans, plates, and silverware.
The project will be managed by the school Principal. A team of 9 parents and professional builders who live in the village will to donate their services to build the kitchen.
Project Impact
181 students, 13 teachers, and 10 educational personnel will benefit from the project. In addition, 1,300 people in the community who use the school facilities regularly will benefit as well.
Peace Corps Volunteer Directing Project
Susan Goodson Fatherree
Comments
The improvements to the inside of the kitchen and the outside area will allow for the preparation, cooking, and serving of food in a sanitary environment.
It is hoped that the kitchen project will inspire needed support from the school district for additional school improvements, such as the renovation of the toilet area.
Dollar Amount of Project
$500.00
Donations Collected to Date
$500.00
Dollar Amount Needed
$0.00 – This project has now been fully funded, through the generosity of The Soneva SLOW LIFE Trust as a part of their Clean Water Projects initiative.
We encourage others to continue to donate using the Donate button below, and we will notify Peace Corps Volunteer Susan Goodson Fatherree of your donation. Additional funds will be used to fund the next project by Susan and/or those of her counterpart PCVs in Thailand.
This project has been finished. To read about the conclusion of the project, CLICK HERE.