Ban NaAng School Kitchen Project – Thailand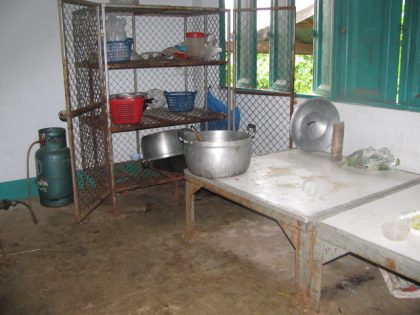 Location
Ban NaAng, Nongbualamphu Province, Thailand
Community Description
Ban NaAng is a rural village in Northeastern Thailand. The village consists mostly of rice farmers, who supplement their low monthly income by growing vegetables, raising chickens for meat and eggs, catching fish, and harvesting rice. They also make rice baskets and weave grass mats.
There are approximately 190 families with 4-5 people living in each house. for a total of 800 people. The elementary school serves as a meeting place for the community and special events.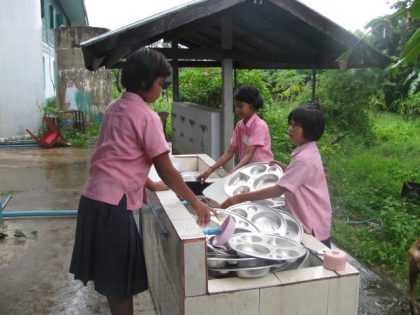 Project Description
This project is to build a kitchen and install plumbing in an elementary school. The kitchen will provide a sanitary place where food can be cleaned and prepared and dishes can be washed, rinsed, and stored.
Food is currently prepared on a platform inside the cafeteria and a small wash area, which is outside and exposed to rain and sun.
The plans call for improving an existing area by expanding the space, raising the roof, adding two sinks for washing and rinsing, building a counter for preparing and serving the food, and cupboards for storing spices, dishes, pots, and silverware.
The two sinks will be constructed with pipes that connect to the community water supply. Dirty water will drain to two cement filters set into the ground. Each filter is 80 cm in diameter and 60 cm deep, set one on top of the other and will contain layers of small rocks, charcoal and sand.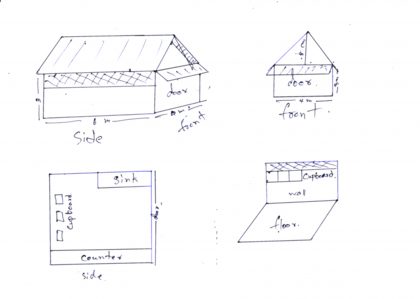 The new kitchen will be used to prepare lunch each day for those at the school, and for community events.
All of the project funds will be used for materials. Community members, teachers and a few skilled carpenters and tradesmen will provide the labor.
Project Impact
The school has 110 students, grades pre-school to six, ages four to twelve, and eleven teachers, who will directly benefit from the project. The indirect benefits will extend to 800 people in the village.
The new kitchen will provide well-prepared and healthy food for students and community members. It will allow students to learn proper hygienic habits and to take responsibility for cleaning the cafeteria. In addition, it will build a strong relationship between the school and the community.
Peace Corps Volunteer Directing Project
Janet Rose
Comments
This project eliminates an unsanitary and inconvenient food preparation area, and replaces it with a clean facility that will provide healthy meals for students, teachers, and the community.
The strong community and teacher participation will ensure that the facility will be well-maintained in the future.
Dollar Amount of Project
$400.00
Donations Collected to Date
$400.00
Dollar Amount Needed
$0.00 – This project has been fully funded, through the generosity of The Soneva SLOW LIFE Trust as a part of their Clean Water Projects initiative.
Additional contributions were received from Kathy West, Laurie Ryan, and Dale Campbell, of Colorado Springs, CO, USA and Stephen Johnson of Grand Forks, ND, USA.
Any additional donations using the Donate button below will be used to fund other projects by this PCV and/or other PCVs in this country.
This project has been completed. To read about the conclusion of the project, CLICK HERE.