Ban Kadard School Handwashing Station Project – Thailand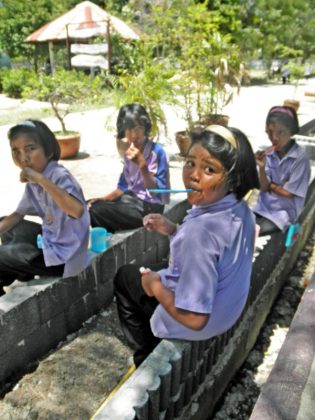 Location
Ban Kadard Village, Kokyang, Prassart District, Surin Province, Thailand
Community Description
Ban Kadard Village is a small rural community which derives the majority of its income from farming (jasmine rice and cassava). Farming household incomes vary by the amount of land held, but tend to rest in the 2,000 – 3,000 Baht/month (approximately $ 67 – $ 100).
Ban Kadard School is a public school in Ban Kadard Village. There are 408 students, kindergarten through 9th grade, who attend the school. Most children are raised by their grandparents or other older relatives, while parents and other family members work in larger metropolitan areas.
The students do not have facilities for washing hands or brushing their teeth after meals each day. It is a daily habit in Thai schools for the students to brush their teeth after lunch. Unfortunately, the only place for students at Ban Kadard School is to brush their teeth is in the gutter. Many of them don't wash their hands throughout the day due to the lack of wash basins at school (they currently use plastic bowls for washing their hands after eating lunch).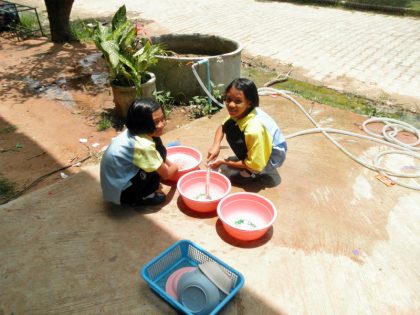 Project Description
This project is for the construction of a handwashing station at the school for students to wash their hands and brush their teeth.
The station will be a 4-meter-long tiled sink with 26 spouts. It will be located next to the cafeteria so that the students will automatically brush their teeth and wash their hands every day after lunch.
The work will be done by the school's handyman as well as 3 other community members.
The steps that will be followed to build the sink include getting the workspace ready (clearing the area, cleaning, etc.), measuring the space for the sink, making the frame using cement, steel, wire, blocks, and PVC pipes, and laying the tiles and setting up the 26 faucets.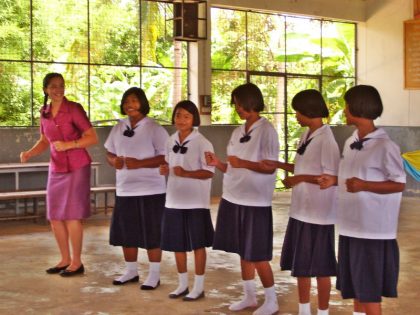 Project funds will be used for materials, including pipe, cement, plaster, steel, tiles, sand, and faucets, as well as lunch for the 4 construction workers for one week.
In order to further promote healthy habits, lessons on handwashing as well as dental hygiene will be incorporated and emphasized in the English class curriculum, and hygiene posters will be made.
Project Impact
All the students from kindergarten through 9th grade, 408 students, will have access to this handwashing station on a daily basis.
Peace Corps Volunteer Directing Project
Melissa Brown
Comments
This project will improve the hygiene and dental health of the students by making it convenient for them to engage in good practices.
Dollar Amount of Project
$555.00
Donations Collected to Date
$555.00
Dollar Amount Needed
$0.00 – This project has now been fully funded through the generosity of The Soneva SLOW LIFE Trust as a part of their Clean Water Projects initiative.
We encourage others to continue to donate using the Donate button below, and we will notify Peace Corps Volunteer Melissa Brown of your donation. Additional funds will be used to fund the next project by Melissa and/or those of other PCVs in the country of service.



This project has been finished. To read about the conclusion of the project, CLICK HERE.