Ayim Borehole Project – Ghana
This project is made possible through the partnership of WATER CHARITY and the NATIONAL PEACE CORPS ASSOCIATION.

This project has been completed. To read about the conclusion, CLICK HERE.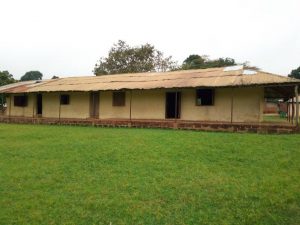 Location
Ayim, Akuapim North, Ghana
Community Description
Ayim is a small village located between Brekuso and Kitase linking a major rough road to Kwabenya, Atomic, Madina, Pokuase and Accra. It is about a one-hour drive to the capital city of the country and has a population of about 3,000 people. The major ethnic groups are Ga, Twi, Islam, and Ewe. The major languages spoken by the people are Akuapim, Twi and Ga.
The major occupations are farming and manual quarry operations. The villagers earn a living by breaking stones and selling them for building and construction. Some of the crops produced by the villagers are pineapple, cassava, plantain, cocoyam, yam, and oil palm.
Many families living in the village raise small livestock for the home. Men are often seen hunting at night for wild animals like grass cutter, rats, antelope, deer, and rabbits or gathering of snails later at night when the rain comes. Surpluses are sold when there is more than enough to feed the family.
Some of the food eaten by the people are banku, fufu, ampesi, kenkey, rice, konkonte, waakye and akpele.
The village has one government-provisioned public school from grades one 1 to nine 9 as well as one kindergarten school. Since there is no continuing school after basic education, students must leave the village to further their education in the cities or bigger towns.
The people of the village are strong believers, but they have no church buildings, and as such, they worship in the school classrooms on Sundays when there are no classes. Some of the religions are Pentecost, Presbyterians, and Methodist.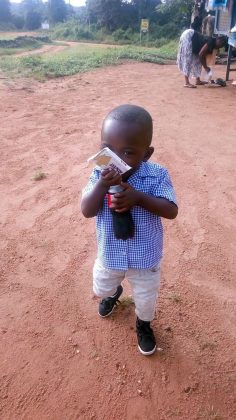 Problem Addressed
Twenty-five years ago, Ayim received benefits from a well-financed municipal assembly. Unfortunately, the location selected for the well wasn't the best, as it was designed by inexperienced persons. The well fell into disrepair and ceased to function.
Now the people of the village, including school children, walk for long distances to fetch river water for their homes and school. The danger that this source of water brings is very great due to pollution, which eventually affects the health of the people.
Project Description
This project is to construct a borehole for the people of Ayim
The borehole will be drilled deep in the ground to about 40 – 45 meters. A hand pump will be added, and covered with anti-rust paint. Above- ground work will include block laying, concreting and plastering, spillway, and soak pit.
The work will be done by an experienced contractor in the area.
Call To Nature Permaculture will donate trees that will be planted around the facility to cool its environment and also to provide shade.
H2O Africa Care will provide project design, planning, technical support, administration, and monitoring.
Project Impact
3,000 people will benefit from the project.
Project Administration
The project will be implemented under the direction of Nana Kudjoe Kesse, Executive Director and Chief Operations Officer of H2O Africa Care. Nana previously completed five other borehole projects.
We are grateful to Solomon Amuzu, of Call to Nature Permaculture, who is providing additional assistance and oversight.
Monitoring and Maintenance
The community will provide a person to be in charge of the facility. The people of the village, except school children, will pay small fee to pump water. These funds will be used for maintenance and repairs when needed.
The borehole will be near the main school compound, and school children will keep the area clean.
The H2O team will do a monthly follow-up to ensure the smooth running of the facility and make sure it is being properly used.
Project Funding
The funding for this project has been provided by an anonymous donor.
If you like this project, please make a general-purpose donation to Water Charity, so that we will have funds available to immediately start our next project in Ghana.

Conclusion of Ayim Borehole Project – Ghana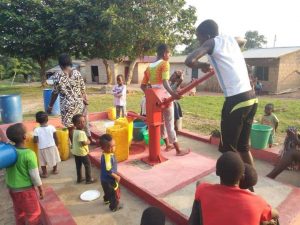 This project has been completed under the direction of Nana Kudjoe Kesse, Executive Director and Chief Operations Officer of H2O Africa Care. To read about the start of the project, CLICK HERE.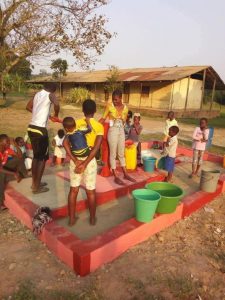 The project was designed to construct a borehole for the people of Ayim.
Nana reports:
Reporting with great joy and happiness from Ayim as water flows for this community.

This project was made possible through collaboration between the H2O team and the entire Ayim community.

The work started by surveying and accessing the right position where water could be located deep in the ground. This was done together with the drilling company, H2O team and some selected community leaders from Ayim. A suitable location was marked, a 12 minute walk away.

Family Drilling then drove their truck to the location selected and work started. In about 2 hours, the water table was hit at a depth of 58.2 meters.

All metal and pressure pipes components were fixed and the hand pump installed. The facility was left overnight to enable glued joints to dry completely after testing.

A gongon was beaten to inform the community men that they were requested to join a professional mason to construct a block and concrete structure around the borehole. Blocks were placed in a 6 ×12 feet area, and plastered, and a cement floor was prepared. A soak-away pit was built to capture spilled water.

As we always do, after all, plastered work is done and dried, the facility was painted to provide protection against rust as well as for beautification.

To make sure the surroundings remain cool, and to provide shade, CTNP donated 6 cedrella tree seedlings that were planted around this water resource.

H2O and Family Drilling provided short training to the person in charge of the facility, leaving behind a set of tools for maintenance and repairs.

Now the community is very happy enjoying the continuous flow of ample drinking water.

In the early morning, as is tradition in many Ghanaian communities, chiefs and elders came over to the H2O team base knocking on the door to say a very big thank you for our support.

We also received numerous messages from a few people expressing their great feelings for such a wonderful provision.

We at H2O Africa Care also extend our endless gratitude to Water Charity for continuing with us on this mission as we make sure our people get access to healthy accessible water and sanitation.
We extend our thanks to Nana for completing this important project.