Conclusion of Avni Rustami School Bathroom and Water Project – Albania
This project has been completed under the direction of Peace Corps Volunteer Mohammad Ashique.
This project was designed to repair the 2 restrooms located at the north end of the Avni Rustami Primary School. The repairs were to include 10 toilets, 4 in the boys' restroom and 6 in the girls' restroom. Five sinks were to be repaired, 3 in boys' restroom and 2 in girls' restroom. A water heater was to be installed between the two restrooms.
To read about the beginning of the project, CLICK HERE.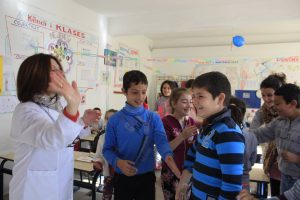 A summary of Mohammad's report is as follows:
In total 2 restrooms were repaired, with 10 toilets and booths, 5 sinks, and installation of a water heater. All of the bathrooms at the school are now functional.

The project included repairing all 10 toilet stalls and ceiling of both of the restrooms, which previously leaked water. The walls were repaired and tiles installed, and the bathrooms were painted.

As part of the community contribution, the municipality provided a plumber and laborer to complete the necessary work.

The new facilities met the goals of the Let Girls Learn initiative in that they make it easier for girls to satisfy their needs for proper sanitation and hygiene, and thus remain in school.

The municipality office has agreed to maintain the restrooms and provide supplies.

After completion, I gave a lesson on clean water and hygiene to a 4th grade class, with help of another volunteer. The teachers in the school proceeded to give the same lesson to their respective classes; modifying the content to fit different age groups. About 200 girls in the school received these lessons.
We are grateful to Mohammad for completing this project, which was part of our 100 Water Projects Program – Albania.
We are still soliciting donations.