Conclusion of Ang Andet Primary School Latrine and Pump Project – Cambodia
This project has been completed under the direction of Peace Corps Volunteer Bruce Kelsey. To read about the beginning of the project, CLICK HERE.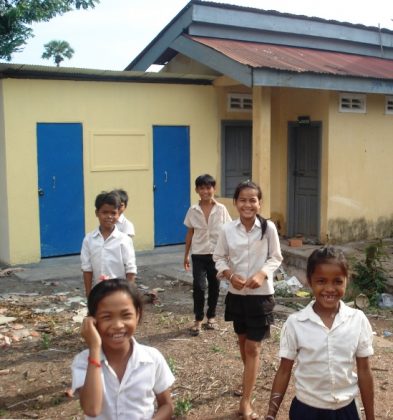 The project was to add an annex with two toilets and fix the hand pump on a well.
Bruce reports:
The latrine is complete at Ang Andet Primary School. Things went smoothly on the construction and it was completed without a hitch. Once again we proved the value of using a trusted contractor, one who had helped us complete three previous Appropriate Project-funded bathrooms, plus water tanks.

I had several of the teachers and students tell me thank you and I wanted to pass that thanks along to the donors and to Appropriate Projects.

The only issue between the original plan and the completed bathroom was that, upon consultation with the district office of the Ministry of Education, it was decided that we would not be allowed to build the latrine annex attached to the school building. Therefore, the projected $50 savings in material didn't occur and all Appropriate Projects funds from the donors had to be used to complete the bathroom.

This means that the repair of the well hand pump will not be completed at this time. However, we have spoken with the head monk at the adjacent monastery. Since his monks also use the well when it is available, he has agreed to make up the $50 deficit. However, he asked for a month to raise that money, so the hand pump repairs will wait until then.

Once again, I would like to add my thanks to that of the students and staff at Ang Andet Primary School. We really appreciate the support that the donors and Appropriate Projects have given us.
We are grateful to Bruce for completing this project, and again extend our thanks to his friends and family for providing the funding.