Ait Khoujmane and Ait Issoumoor Latrine Project – Morocco
Location
Ait Khoujmane and Ait Issoumoor, Midelt Province, Morocco
Community Description
Ait Khoujmane and Ait Issoumoor are two adjacent farming villages about 10 kilometers from the town of Er-Rich in Midelt Province. Most of the residents are of limited resources.
Problem Addressed
Few of the residents have bathrooms, and many use fields or the area behind the clinic.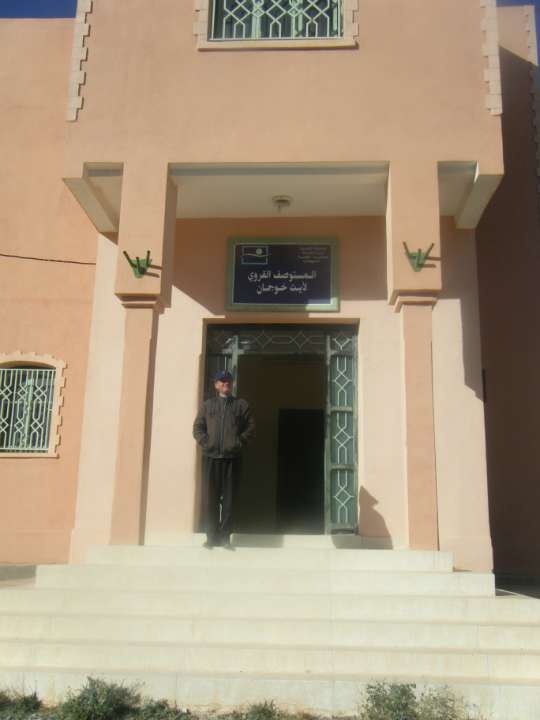 Project Description
This project is to build 35 two-pit latrines in the two communities.
The design calls for the digging of two pits, which are attached to a squatting area by pipes. A valve is installed in the piping which blocks off the second pit while the first is being used, and then can be switched to block off the first pit when it is full and allow the use of the second. Water pipes will be run to the latrines to allow for flushing with buckets.
Each beneficiary will dig two pits to a depth of 1 ½ meters. Many have already gathered tools and dug their pits in anticipation of the project.
The residents have been educated on the construction and proper use of the latrines, the importance of handwashing, as well as the health and environmental benefits to be derived, by the rural health nurse of the Ait Khoujmane Rural Health Clinic and the Peace Corps Volunteer.
The project will be completed under the direction of a master builder who lives in the village, with the direct participation of the rural health nurse.
A local building supplies shop owner will supply the cement. Gravel, sand, and piping will be purchased for the construction and transported to the sites.
Water Charity is providing the major participation as part of the Peace Corps Partnership effort. The funds will be used for the purchase of the materials as well as to pay for the labor of the skilled builder.
Project Impact
A total of 207 people will benefit from the project, including 113 adults, 57 children, and 37 teenagers/young adults.
Peace Corps Volunteer Directing Project
Anna Lieth
Monitoring and Maintenance
The residents have been educated on the proper use of the latrines and will be responsible for maintenance. Health clinic staff will follow up to ensure proper maintenance, sanitation, and hygiene.
Comments
This is an important project aimed toward providing access to sanitary facilities for the entire community. It will serve to reduce the incidence of gastrointestinal illness. It has the full participation of the community and health clinic staff, thus ensuring its prompt completion as well as sustainability.
Fundraising Target
$3,000
Funds raised in excess of the project amount will be allocated to other projects in the country.
Donations Collected to Date
$0
ADOPT THIS PROJECT BY CONTRIBUTING THE DOLLAR AMOUNT OF THE PROJECT
Donations of any amount will be appreciated. The full amount will give you "naming rights", if that is something you would like.
Dollar Amount Needed
$3,000
This project has been completed. To see the results, CLICK HERE.