#7 Makara Village Wells for Women Project – Cambodia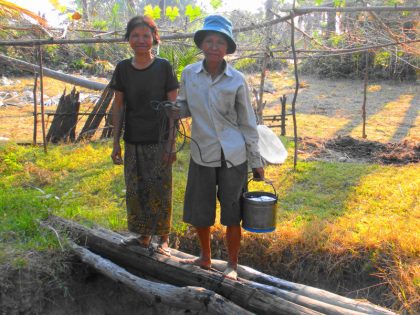 Location
#7 Makara Village, Taing Krasiang Commune, Santuk District, Kompong Thom Province, Cambodia
Community Description
Taing Krasiang is 151 km Northwest from Phnom Penh and 169 km Southeast from Siem Reap. Even though it is a halfway point on National Highway 6 between Phnom Penh and Siem Reap, it remains very poor and has seen little development. Daily business centers on rice farming and fishing.
Few villagers have access to electricity, most rely on car batteries for power. There is no running water available, and no latrines.
The stresses of poverty are especially felt by women in the community. The high rate of alcoholism and domestic violence in Santuk district is unsettling. Only brave women file for divorce under such economic hardships. Many other women eventually find their husbands have deserted them for new lives with second wives.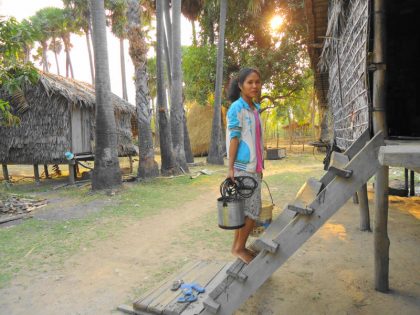 241 families live in #7 Makara Village. 28% of these families are headed by a female head of household. Overall, 71% of the community is female.
A woman who is head of the household lives an especially trying life by herself. She has to handle the double load of domestic and agricultural work. She is responsible for managing the house and upkeep, earning money to support her family, child care (which normally means taking her young children to work with her), and paying for hired laborers to help with other duties.
Water is a necessity for domestic use (cooking, washing clothes, bathing, and drinking) and for growing crops (cabbage, eggplant, bitter melon, and green shoots). Presently there is a lack of access to clean water for many of these families.
Women typically use their neighbors' wells, sometimes located as much as 1 ½ kilometers away. On a typical day, it may take 30 trips to and from the well to perform routine tasks.
A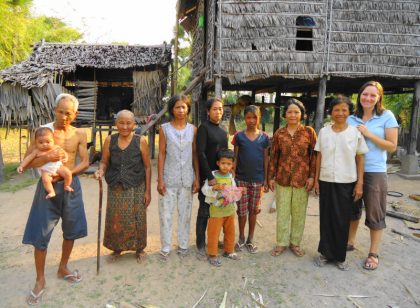 ccess to a clean water supply could help alleviate some of the burdens on the families. However, these women do not have the financial resources to effectively solve this problem on their own.
Project Description
This project is to build two hand pump wells in Taing Krasiang. Each well will be located at a house of a female head of household and will be shared among five additional families. The wells will be centrally located between the families for convenience.
The locations were determined with the assistance of the Khmer Organization for Rural Community Development. One of the wells will be built on the southeast side of Taing Krasiang approximately 1 ½ km from the center of the village. The other well will be built approximately 2 km from the first well's location, on the western edge of Taing Krasiang village.
Each well will be dug approximately 20 meters deep, which is below the water table. Thus water will be available year-round.
The wells will be lined with cement cylinders to ensure structural stability and to protect the water from contaminants. A cement cover will also be fabricated, and a hand pump installed for ease of use and to control the hygiene and sanitation of the water.
The families are invested in this project and will provide the labor to hand dig the wells. All construction will proceed under the direction and supervision of five skilled workers who have built similar wells in the community and have volunteered their services for this project.
Project funds will be used to buy the cement and materials for the wells, as well as to transport the materials to the site.
Currently, the community's potable groundwater has no health hazards. However, arsenic testing will be done by the local NGO to ensure the water is safe.
Project Impact
This project will benefit 65 people in 12 households.
Peace Corps Volunteer Directing Project
Jessica Snyder
Comments
Having a nearby well with clean water will greatly reduce the amount of time spent by the women in their daily retrieval of water from the wells of neighbors. It will also improve the overall health and nutrition for these families.
It is hoped that the project will spur other families in other neighborhoods to undertake additional well projects.
Dollar Amount of Project
$490.00
Donations Collected to Date
$490.00
Dollar Amount Needed
$0.00 – This project has now been fully funded through the generosity of friends and families of Jessica Snyder.
We encourage others to continue to donate using the Donate button below, and we will notify Jessica of your donation. Additional funds will be used to fund the next project by Jessica and/or those of other PCVs in the country.
This project has been finished. To read about the conclusion of the project, CLICK HERE.