52 Pumps in 52 Weeks – Senegal – Project 10 – Saare Gouna, Community Garden
This project is part of our 52 Pumps in 52 Weeks Program, being implemented by Peace Corps Volunteers Marcie Todd and Garrison Harward. To read about the program and follow its progress, CLICK HERE.
Location
Saare Gouna, Senegal
Community Description
Saare Gouna is the third and final village in the clump of villages near Saare SambaThika.
Saare Gouna's community garden is the best-organized garden I have seen yet. There are 29 women who work in the garden and each one has her own space, divided by hundreds of tree branches sown together with prickly bush.
Each woman's plot is a half a chord, though some of the older women have a bit more space, and they grow the veggies of their choosing.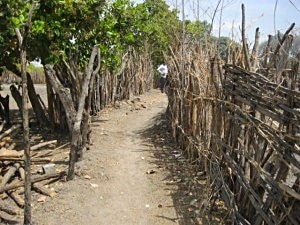 Almost every woman grows hibiscus, whose leaves are harvested for sauce and flowers for juice, and okra. The combination is like the tomato basil duo we Americans grow in our backyards.
Project Description
Saare Gouna has one-well maintained and clean well located in the middle of their space. Each of the women pulls about 20 buckets of water minimum for their gardens which becomes very tiresome, and a pump will speed along the process greatly while also saving energy.
Project Impact
The 29 members of the garden will directly benefit from the pump. Indirectly, all of their families will benefit as well.
Peace Corps Volunteer Directing Project
Marcie Todd
Comments
This is another great project to add to the string of successes. The benefit to the women and their families will be long-lasting.
Dollar Amount of Project
$100.00
Donations Collected to Date
$100.00
Dollar Amount Needed
$0.00 – This project has now been fully funded through the generosity of Cynthia Sperry, of Fayetteville, NC, USA.
If you now contribute $100, your name will be placed on the waiting list to adopt the next project in order.
If you wish to contribute less than $100, the money will be applied toward the overall program.
This project has been finished. To read about the conclusion of the project, CLICK HERE.