52 Pumps in 52 Weeks – Senegal – Project 30 – Toubacouta, Community Garden Well
This project is part of our 52 Pumps in 52 Weeks Program, being implemented by Peace Corps Volunteers Marcie Todd and Garrison Harward. To read about the program and follow its progress, CLICK HERE.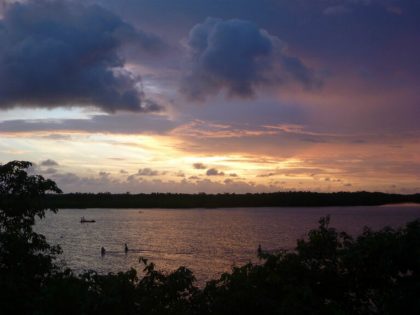 Location
Toubacouta, Fatick, Senegal
Community Description
Toubacouta is a beautiful Mandinkan village located right on the Sin Saloum Delta. People here are mainly farmers and fishermen, but due to the beauty of the area there is also a substantial tourist industry, with several large hotels providing employment for a large number of local residents.
This influx of tourists and money has its downside however, mainly in that more and more people are turning to commercial work, or work in larger cities, rather than subsistence farming. This is usually beneficial, but less so when the economy slumps and tourism wanes.
Many people are thus left caught between two worlds. They see the possibility of, and want, a modern western life but are left without the means to attain it, and end up turning somewhat reluctantly to agriculture to survive. This reluctance often results in mediocre yields and little forward progress.
Project Description
That being said, this is not the case today. These problems are real, but as often as they arise, there are individuals who rise to the occasion with real enthusiasm and ambition. Meet Paco Diadhiou. He and his family live in Toubacouta, and recently took out a substantial loan and signed a contract to produce mangoes and papayas for export to Europe. This entire family has been farming for generations and they see it not as a fallback, but as their road to prosperity. They are incredibly hardworking and ambitious and are always eager to try new technologies or techniques.
We plan to install a pump on one of their two wells, in order to help them increase their vegetable production in the garden. This will provide them with a steady stream of cash and food while they wait for the trees to start producing.
Project Impact
15 direct family members will benefit from the pump, as well as 30 other local women who work small individual plots in the garden.
Peace Corps Volunteer Directing Project
Garrison Harward
Comments
The increased productivity afforded by the pump will serve to highlight the technology, and act as a model for others to emulate. With each successful installation, the technicians refine the technique and gain in experience.
Dollar Amount of Project
$150.00
Donations Collected to Date
$150.00
Dollar Amount Needed
$0.00 – This project has been fully funded through the generosity of the Fundación para la Educación y el Desarrollo Transpersonal, of Madrid, Spain.
This project has been finished. To read about the conclusion of the project, CLICK HERE.