52 Pumps in 52 Weeks Program – Senegal
This is a program being undertaken by Water Charity in partnership with Peace Corps Senegal. The tremendously ambitious objective is to build 52 water pumps in Senegal in 52 weeks!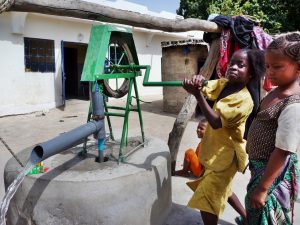 The program is being implemented by Peace Corps Volunteers Marcie Todd and Garrison Harward. The technology is the tried-and-proven rope pump system. It is inexpensive, provides a sizable output, is easy to build using local materials, and is simple to maintain.
Marcie demonstrated the technology in the Usine Coton Rope Pump Project – Senegal.
Marcie and Garrison explain the benefits:
It is our hope that these pumps will ease the difficulty and increase the overall speed of pulling water, freeing women to either expand their agricultural production, thereby increasing their food security and economic independence, or allow them to engage in secondary income-generating activities for which they may previously not have had the time to explore.
You will be able to follow the 52 Projects in 52 Weeks Blog that has been developed and will be maintained by Marcie and Garrison.
One pump will be built each week in the Kolda and Kaolack regions of Senegal. We will put up a project page with a simple description of each project, and refer you back to the blog for a more complete description.
You may "adopt" a pump on a first-come-first-served basis. We will post a new well each week on the Water Charity website. If you click on the Donate button it is yours for $150. That means you can dedicate it, name it, tell your friends about it, or do what you want to with it.
(The first 21 pumps were priced at $100 each. The new price of $150 is closer to the actual cost for a pump, as it includes pay for the skilled workers who are actually doing the installations.)
Come back to this page as we add a new project each week!
If you would like to make a general donation of any amount to the 52 Pumps in 52 Weeks Program, you may do so by clicking on the Donate button below. Any donations above the actual program costs will be used to fund other projects in Senegal.
We are grateful to the following for their generous donations of $500 for the program:
David Allen, of Ojai, CA, USA
Ram Sareen, of Los Angeles, CA, USA
CannedWater4Kids, of Sussex, WI, USA