Vehcan School Water Project – Albania
This project is made possible through the partnership of Water Charity and the National Peace Corps Association.

This is a project under the LET GIRLS LEARN Program, a collaboration of First Lady Michelle Obama and the Peace Corps to expand access to education for adolescent girls around the world!
Location
Vehcan, Librazhd District, Elbasan County, Albania
Community Description
Vehcan is a rural farming village of 762 people located in the Librazhd Municipality of Elbasan,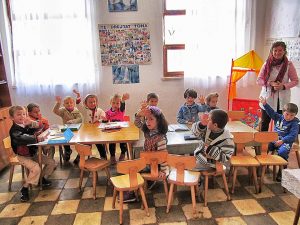 Albania. The village is located in the mountains on unpaved roads, making it difficult to access by car. The closest small city is Librazhd, located 17.5 km away, which equates to a 4-hour walk. The village of Vehcan consists of a school, private homes, and small private farms.
The nine-year school in Vehcan serves as the hub of community life because it is the only public building in the village. There are no stores or places of interest, a result of its isolated location and poor roads.
Problem Addressed
The nine-year school in Vehcan currently has two bathrooms. One bathroom is on the first floor; one is on the second floor. Each bathroom has one toilet, one sink, one door, and two small windows. The floors are concrete and the bathroom infrastructure does not function properly. Neither sink has running water, both of the Turkish toilets do not flush, the tubes and pipes for the water are rusted and outdated, and the floors are essentially dirt.
There is running water available via local canals, but the pipes and tubes do not permit water to flow. The current situation is unsanitary and is having negative health effects on the children in Vehcan. Many children resort to using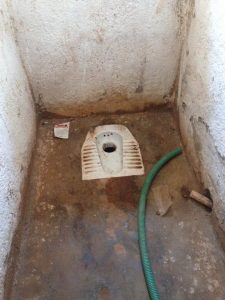 the bathroom outside or simply do not go at all.
Project Description
The intent of this project is to restore both bathrooms to working capacity. We are working with the school staff, local plumbers, and World Vision (NGO) in Librazhd to complete this project. To begin, we will need many new materials: 2 doors, 4 windows, 25 tiles for the floor, 2 new Turkish toilets, 2 new sinks, a new water deposit, and 270 new pipes/tubes.
There is a canal that runs directly to the school with the potential to supply the school with water. To make use of the water supply we will need to install new plumbing equipment, including the pipes, water deposit, and sinks. It will take approximately one month to completely restore both bathrooms.
Project Impact
This project will serve 94 students and staff, plus members of the community, visitors and future students. That the school is used as a community-building, means that this project will actually help the entire village of 762 people.
Peace Corps Volunteer Directing Project
Kyle Moye
Monitoring and Maintenance
Monitoring and maintenance will be performed by school staff and World Vision Librazhd
Comments
This project is being completed in collaboration with World Vision, Shkolla 9 vjecare Vehcan – Community support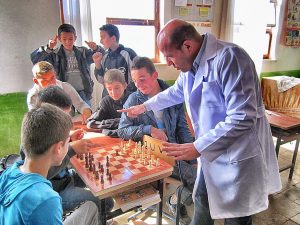 This project is part of the Let Girls Learn Program, a powerful collaboration between First Lady Michelle Obama and the Peace Corps which was formed to expand access to education for adolescent girls around the world.
Lack of clean facilities is a leading cause of women dropping out of school. Water Charity is proud to have sponsored the very first LGL project and continues to be a leading contributor to the program, as evidenced by projects like this one.
As an LGL project, this falls under our 100 Water Projects Program – Albania, as well as our larger Let Girls Learn Initiative – Worldwide.
Dollar Amount of Project
$2,500
Donations Collected to Date
$1,400
Dollar Amount Needed
$1,100
ADOPT THIS PROJECT BY CONTRIBUTING THE DOLLAR AMOUNT OF THE PROJECT.
Donations of any amount will be appreciated. The full amount will allow you a posted dedication if that is something you would like.
This project has been completed. To read about the conclusion, CLICK HERE.