School Migjeni Puke Bathroom Project – Albania
This project is made possible through the partnership of Water Charity and the National Peace Corps Association.

This is a project under the LET GIRLS LEARN Program, a collaboration of First Lady Michelle Obama and the Peace Corps to expand access to education for girls around the world!
Location
Puke, Puke District, Shkoder Region, Albania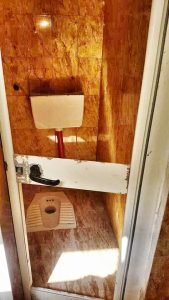 Community Description
Pukë is a remote town of 5,000 residents located in the mountains of northern Albania. Residents have little access to health services as the health care system is largely corrupt and the local hospital has limited resources, and will possibly be closed in the next few years due to lack of funding.
Most residents must make the trip to Shkodër or Tirana when they become ill, which is difficult to arrange due to widespread unemployment and poverty. Illnesses are easily spread in tight living arrangements, with entire families living in dilapidated one-bedroom apartments.
The Government Municipality, or Bashkia, and Directory of Public Health, wish to focus more on taking preventative measures to protect citizen's health. One way in which they can do that is by addressing the lack of sanitation found in the school bathrooms.
Problem Addressed
The current state of the school bathrooms serving grades 1-9 is deplorable. A total of 543 people use these bathrooms and not a single toilet flushes. The janitors must flush the toilets using buckets at the end of the school day. Only one of four sinks functions, inferring that only 25% of students are able to wash their hands after using the bathroom. While there is running water and a deposit tank, it can only be accessed from the sink in the girl's first floor bathroom.
Furthermore, all doors in the girl's bathrooms are without locks, while there are no door is the boys bathroom. The doors were all made of glass, and they are all shattered; only the frames remain.
Due to the state of the school bathrooms, students are exposed to illness. Often times, they do not even stay at school to use the restroom, which raises the possibility that they will not return for the rest of their classes. Of particular concern are girls during their menstrual cycle. With unsanitary facilities, they are exposing themselves to an assortment of health issues, as well as overall stress and taboo. With doors that do not lock, they are unable to have the level of privacy needed to change a pad or tampon. Again, this often leads many of them to just return home to take care of their hygienic needs.
Project Description
The project will take place in "School Migjeni Puke," which teaches students from grades 1-9. On both the first and second floor, there is both a boy's bathroom and a girl's bathroom. Every bathroom has 4 stalls and one sink, totaling 16 toilets and 4 sinks. In order for these students to learn in a sanitary environment, all bathrooms will be refurbished. This includes fixing 16 doors and 3 sinks, as well as replacing 16 toilet tanks.
The original toilets are Turkish toilets. The bowls are still intact and do not need to be replaced. The school has a working water supply, as well as a water deposit in case Puka is on a water schedule.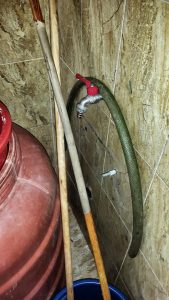 The local Bashkia will provide the 25% community contribution requirement, which will be used to provide labor and cleaning supplies. A group of five engineers/plumbers provided by the Bashkia will be installing the new materials. The funds provided by Water Charity will cover the cost of the materials required to fix the bathrooms,
Peace Corps Volunteer Laura Hobbs, will accompany an employee and an engineer from the Bashkia to purchase the proposed materials. After installation, the Office of Health Promotion will go into the schools and provide informative lessons on germ theory and hand washing to students in grades one through three, using the newly refurbished bathrooms. Girls in grades five through seven will be taught about their menstrual cycle and what to do if they are at school at that time of month. This will allow these girls to remain at school during their cycle and eliminate much of the shame and embarrassment that is currently associated with it.
Project Impact
543 people, consisting of 502 students and 41 employees, will benefit from the project
Peace Corps Volunteer Directing Project
Laura Hobbs
Monitoring and Maintenance
The Bashkia will provide materials for the bathrooms to cover three to four months of use, but the school will continue supplying the bathrooms with soap and cleaning supplies when this is depleted. This will ensure that the bathrooms are being used properly and students have access to the level of sanitation, which they deserve.
Furthermore, an initiative will be started within the schools for each student to bring one bar of soap or roll of toilet paper into the classroom at the beginning of the school year. This is a relatively cost-effective way for families in Pukë to support this project through tangible means.
In terms of maintenance of the actual toilets and sinks, the school janitors will be required to report any damage or wear-and-tear to the Bashkia, who is responsible for fixing these problems. Peace Corps Volunteer Randolph Kent, who works in the school, will ensure that damage is being reported and corrected in a timely manner.
Comments
By refurbishing the school bathrooms, students are insured a cleaner learning environment, which carries over into the larger community context in eliminating illness.
Bashkia Puke is providing community contribution funding and is in charge of long-term bathroom maintenance. The Office of Health Promotion, Directory of Public Health, will deliver the curriculum for hand washing and germ theory
This project is part of the LET GIRLS LEARN program sponsored by FLOTUS Michelle Obama. It is intended to have a positive effect in keeping girls in school after they reach adolescence. Lack of clean facilities is a leading cause of women dropping out of school. Water Charity is proud to have sponsored the very first LGL project, and continues to be a leading contributor to the program, as evidenced by projects like this one.
As an LGL project, this falls under our 100 Water Projects Program – Albania as well as our larger Let Girls Learn Initiative – Worldwide.
Dollar Amount of Project
$2,650
Donations Collected to Date
$0
Dollar Amount Needed
$2,650

This project has been completed. To see the results, CLICK HERE.
ADOPT THIS PROJECT BY CONTRIBUTING THE DOLLAR AMOUNT OF PROJECT
Donations of any amount will be appreciated. The full amount will allow you a posted dedication, if that is something you would like.