Jani Bocova School Bathroom and Water Project – Albania
This project is made possible through the partnership of Water Charity and the National Peace Corps Association.


This is a project under the LET GIRLS LEARN Program, a collaboration of First Lady Michelle Obama and the Peace Corps to expand access to education for adolescent girls around the world!
Location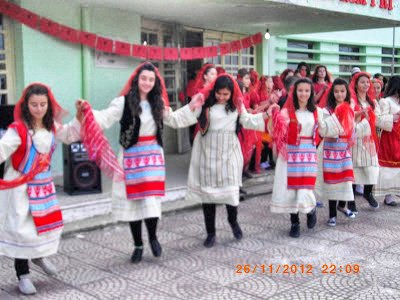 Jani Bocova School, Afrim i Ri village, Fier, Albania
Community Description
Jani Bocova is a 9 year school (primary and intermediate grades 1-9) with 240 students and 15 teachers/staff. Albania is a largely Muslim country where women are not given many opportunities to do anything other than raise families.
Problem Addressed
The facilities for hygiene and sanitation are woefully insufficient. The bathrooms that exist now need to be rebuilt and refurbished. The toilets are currently outside, across a short walkway, with no windows and open to the elements.
Lack of running water and doors for the stalls are a barrier that prevents girls from being able to handle their periods at school, and contributes to the cultural pressure for them to drop out of school.
The toilets themselves need running water, and the basins need taps and piping. Also, the sewer pipes are blocked and broken and need replacing. The school is on a watering schedule and needs a deposit and pump to ensure running water.
Project Description
The project will build walls and insert windows to make the toilet block weatherproof. Running water will be brought to the bathrooms; new faucets and piping will be installed. The sewer pipes will be replaced. And, additionally, a water storage tank will be installed with a pump.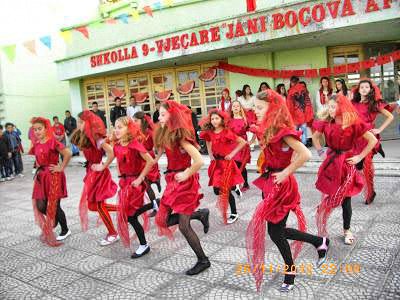 Some of the toilet doors are recoverable but need refinishing and new door frames. Handles and locks will also be added. All the toilets will be completely replaced. There are 3 Turkish toilets for the girls, 3 for the boys and 2 for the teachers/staff… 8 in total.
Project Impact
255 students and teachers, plus parents and visitors to the school, will benefit.
Peace Corps Volunteer Directing Project
Teresa Anderson
Monitoring and Maintenance
The bashkia (municipality) will be responsible for monitoring and maintaining the new bathroom facilities.
Comments
This project is part of the LET GIRLS LEARN program sponsored by FLOTUS Michelle Obama. It is intended to have a positive effect in keeping girls in school after they reach adolescence. Lack of clean facilities is a leading cause of women dropping out of school. Water Charity is proud to have sponsored the very first LGL project, and continues to be a leading contributor to the program, as evidenced by projects like this one.
As an LGL project, this falls under our 100 Water Projects Program – Albania as well as our larger Let Girls Learn Initiative – Worldwide.
Dollar Amount of Project
$1,050
Donations Collected to Date
$0
Dollar Amount Needed
$1,050
This project has been completed. To read about the conclusion, CLICK HERE.
Funding is still needed for this project, and many more in Albania. Please Donate.

ADOPT THIS PROJECT BY CONTRIBUTING THE DOLLAR AMOUNT OF THE PROJECT.
Donations of any amount will be appreciated. The full amount will allow you a posted dedication, if that is something you would like.